(The 2017 Korea Sale Festa, a nationwide retail sale, offers a variety of discounts on bus and train tickets, shopping, restaurants and accommodations. It runs from Sept. 28 to Oct. 31. (Jeon Han))
The Korea Sale Festa (코리아 세일 페스타), a nationwide shopping and tourism sale, offers a variety of discounts on travel packages, shopping items, at tourist sites, restaurants and on accommodations. It kicked off Sept. 28 and runs until Oct. 31. 
This year's festival involves more than 400 entertainment, lodging and restaurant businesses, as well as retailers and manufacturers, which all offer a variety of discounts to tourists both domestic and foreign.
Part of the festival is the so-called "Cyber Hot Days," during which online shoppers can get between 30 and 60 percent discounts on clothes, digital and home appliances, cosmetics and other items, the rate of the discount depending on which day of the week they go shopping.
For shoppers outside Korea, eight online stores, including Gmarket, Lotte.com and Shilla Duty Free, and 28 other overseas online stores from 18 countries, such as Japan's Rakuten and India's Flipkart, will attract shoppers with a series of bargains. 
For non-Korean travelers in Korea, there's a wide range of discounts at hotels, on buses and trains, at performances and for exhibitions. International tourists can also enjoy discounts when using certain transportation methods, shopping and visiting tourist sites across the nation by using their "Korea Tour Card" (코리아 투어 카드).
Domestic airlines are also part of the sale, as Jeju Air and Jin Air provide 89 percent or 80 percent off some tickets. 
There are also 19 percent discounts on some airport trains, and the Shilla Stay chain of hotels is offering a room upgrade for free. Lotte World Adventure and Aquarium is also offering 30 percent off regular admission prices.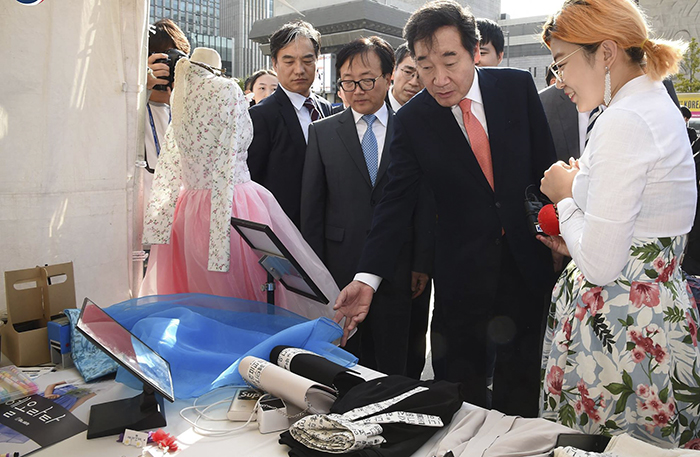 Prime Minister Lee Nak-yon browses one of the booths set up at Gwanghwamun Square to promote the 2017 Korea Sale Festa on Sept. 28. (Prime Minister's Office)
At retailers, shopping districts and traditional markets, there's a chance to take a up-close look at their state-of-the art technologies, too, such as shopping using VR and testing your delivery skills with a drone delivery system.
More information about discounts can be found at the official Korea Sale Festa website, below, available in Korean, English, Japanese, Vietnamese, Indonesian, simplified and traditional Chinese. 
https://www.koreasalefesta.kr