(View of the ocean waters from Anmok Beach)
B! Beers crafted to perfection
Drink up! Gangneung craft beers available only at Budnamu Brewery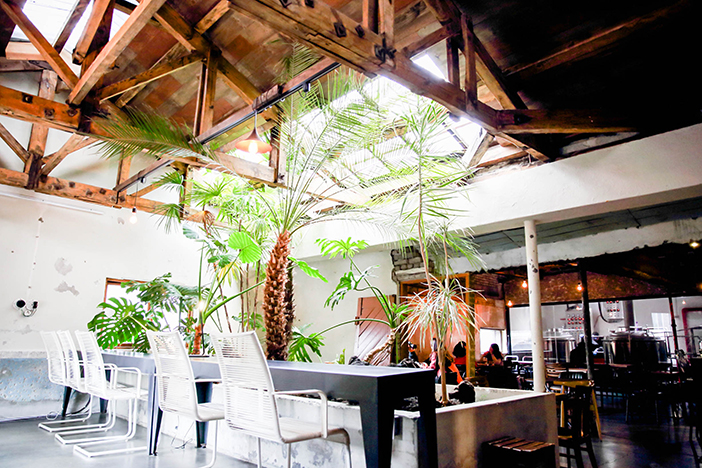 (Day and night at Budnamu Brewery)

Once a makgeolli (rice wine) factory, the elegantly redesigned Budnamu Brewery now offers its own signature craft beers that incorporate Gangneung's local characteristics. Even the names are unique as to set each beer apart from the rest. Budnamu Brewery's signature drink Minori Session derives its name from a region in Gangneung known to cultivate rice. Other drinks such as Zeumeu Blanc and Haslla IPA also have a special tie with Gangneung with Zeumeu meaning "A village where the sun sets," whereas Haslla was Gangneung's old name, meaning "a vast ocean." Likewise, many of the beer names crafted at Budnamu Brewery are connected to the local region, offering visitors an opportunity to learn interesting facts about Gangneung as they enjoy exquisite beer.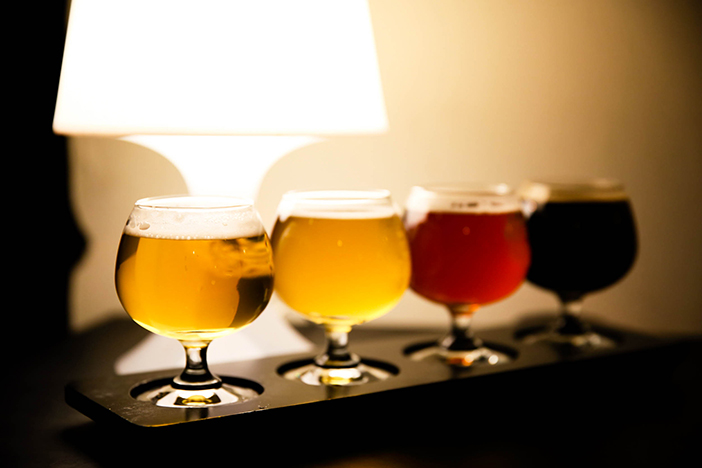 (Budnamu sampler & budnamu platter.)
Newcomers to Budnamu Brewery are recommended to try out Budnamu Sampler as the menu consists of the brewery's four signature beers – Minori Session, Zeumeu Blanc, Pine City Pale Ale, and Ojuck Stout. Minori Session is characterized by a refreshing mandarin-scented aftertaste and Zeumeu Blanc by its smooth flavor followed by a hint of chrysanthemum and Chinese pepper, a wheat beer preferred by women. On the other hand, Pine City Pale Ale offers a bitter but refreshing taste, while the dark Ojuck Stout is bold in both flavor and alcohol content. Budnamu Brewery offers several side menus to go with the beer, but we recommend Budnamu Platter for a taste of the various choices, including cheese, nachos, olives, croquette, and chili.
☞ Address: 1961, Gyeonggang-ro, Gangneung-si, Gangwon-do
☞ Operating hours: 12:00-24:00 (16:00-17:00 Drinks only) / Open all year round (Subject to change)
☞ Signature menus: Budnamu Sampler 18,000 won / Budnamu Platter 20,000 won / Minori Session·Zeumeu Blanc 6,000 won / Pine City Pale Ale·Haslla IPA 7,000 won / Ojuck Stout 8,000 won / Fish & Chips 19,000 won
☞ Facebook: www.facebook.com/Budnamu (Korean only)
B! Bread at its finest
No Butter, No Eggs! Healthy vegan breads served at Baking Farmer
(Heungguk whole wheat bread filled with nuts)
Gangneung's vegan bakery Baking Farmer rose to popularity with its back-to-basics breads. The bakery aims to serve healthy breads using whole-wheat flour and natural yeast as the base and adding other nutritious ingredients such as grains, vegetables, and fruits. Not only does the bakery avoid using additives or artificial flavors, it also refrains from using dairy products such as eggs, milk, and butter. The vegan bakery began when the owner decided to change his own dietary habits from fast food and processed food to a healthy lifestyle. Baking Farmer is definitely a must-visit bakery for the health-conscious.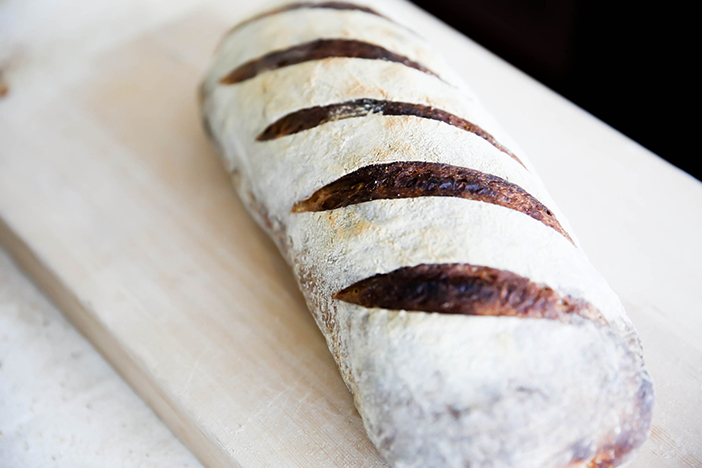 Organic breads made with natural yeast at Baking Farmer

Breads offered at the Baking Farmer are plain and simple, just like their slogan "Bread good for you rather than good to eat." Trying sugarless breads may be unpleasant at first, but the mild natural flavors of the ingredients that are usually hidden will rise to the foreground. Lightly toasting the bread before eating will bring out even more flavor. These breads have a longer shelf life than those made with milk and eggs, serving as a convenient snack during a trip. If it's your first time to try unsweetened breads, we recommend choosing a whole wheat bread filled with nuts. The nutty flavor of almonds and peanuts will help to fill the gap of the missing sweetness.
☞ Address: 116, Gangyeon-ro, Gangneung-si, Gangwon-do
☞ Operating hours: 12:00-18:00 (Subject to early closure when breads are sold out) / Closed Friday-Sunday
☞ Signature menus: Organic natural yeast heungguk whole wheat bread loaf (Basic/Nuts) 10,000 won / Organic natural yeast whole wheat bread loaf (Basic/Nuts) 10,000 won (Also sold by the slice. Inquire on-site.)
※ Bread types sold depend on available ingredients.
Creamy bread to dance for at Bbang Dabang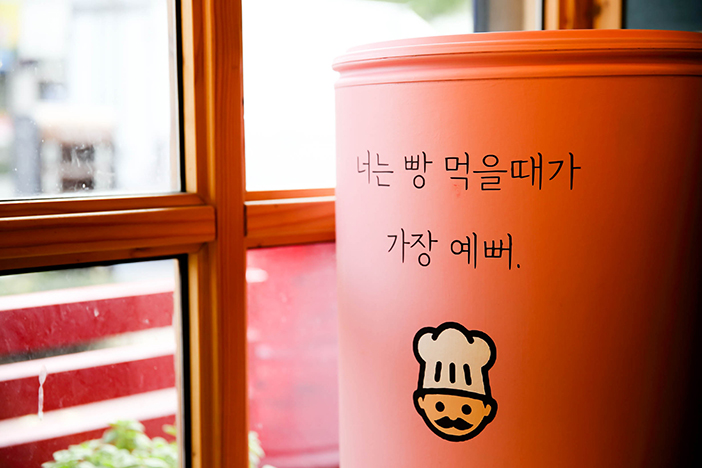 (Quote "You are most beautiful when you eat bread.")
The popular Bbang Dabang in Gangneung is almost like a Holy Land among Korea's cream bun lovers. Bbang Dabang uses 100% fresh cream without any additives, serving buns filled with rich and smooth cream. The bakery serves as a café as well, providing drinks to go along with their signature buns. If you agree that eating is one of the best pleasures a trip can offer, don't miss out on the sweet guilty pleasure that await you at Bbang Dabang!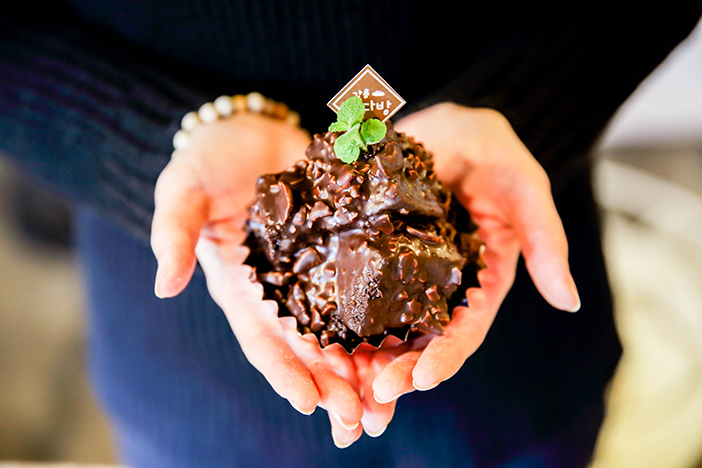 (Choco bomb (top), strawberry cream bun and green tea cream bun (bottom))

The must-try at Bbang Dabang is of course their signature cream buns. In particular, strawberry and green tea cream buns are so popular that they can run out even before the day ends. A fresh strawberry is hidden within the refreshing strawberry flavored cream, playing a major role in making this bun one of the top selling items at this bakery. As for the bakery's signature green tea cream bun, it won the hearts of cream bun lovers nationwide with its taste of bittersweet green tea cream layered with sweet red bean. If you are craving something sweeter, try the choco bomb; its ensemble of chocolate and nutty crunchiness will boost your energy for your next stop.
☞ Address: 2263, Gyeonggang-ro, Gangneung-si, Gangwon-do
☞ Operating hours: 12:00-21:00 (Subject to early closure when breads are sold out) / Closed Mondays
☞ Signature menus: Strawberry cream bun 3,000 won / Green tea cream bun 3,000 won / Choco bomb 3,000 won / Americano 2,000 won / Café latte 3,000 won * Additional 500 won for iced drinks
C! Coffee and charm along the coffee road
Awaken your senses at Wanda Mansion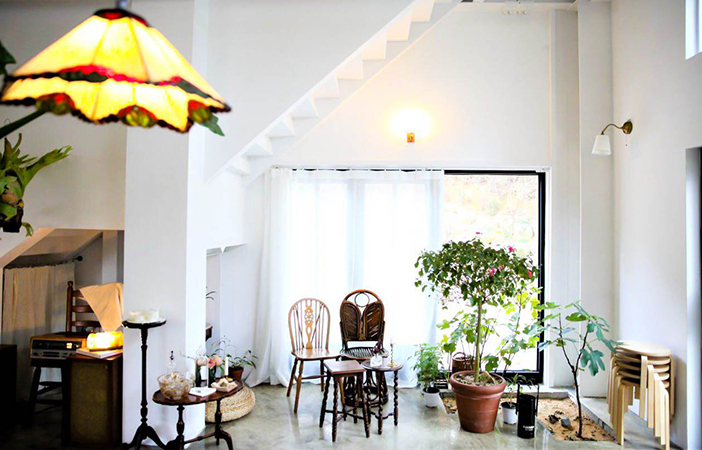 (Wanda Mansion's inspirational space)
Wanda Mansion attracts visitors with vintage furniture, live plants, and an elegantly decorated interior. The tables are widely placed apart from each other, providing adequate space for visitors to sit and relax. The café also features a terrace where visitors can sit outside during spring and summer to enjoy the fresh blossoms and greenery, or remain inside and enjoy the view through the terrace windows over a latte during chilly winter.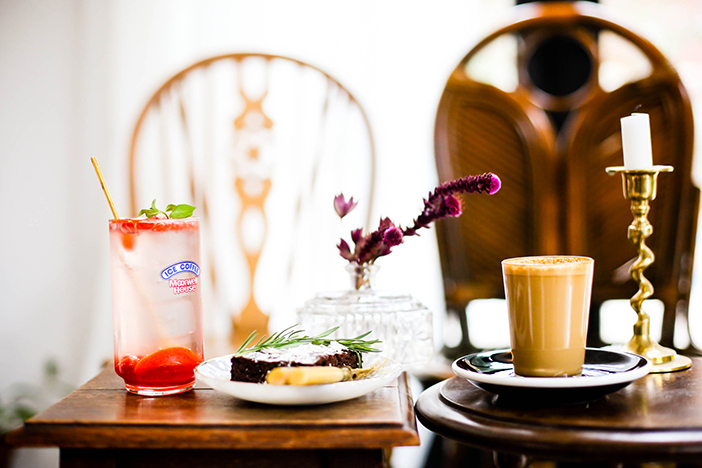 (Strawberry lemonade, flat white with a brownie)

Taking a photo of Wanda Mansion's desserts is a must as they look just as charming as the café's interior. Their appearance will delight your eyes even before you take your first bite. Homemade sweet fruit ades are available regardless of season, but their sweet warm latte or a cup of strongly blended flat white will melt away the winter cold. Add a chocolaty brownie to go with your drink to complete your perfect afternoon.
☞ Address: 171-12, Gyodonggwangjang-ro, Gangneung-si, Gangwon-do
☞ Operating hours: 11:00-19:00 (Open until 21:30 on Saturdays) / Closed Tuesdays
☞ Signature menus: Americano 4,500 won / Café latte, Flat white 5,000 won / Homemade fruit ade 6,000 won / Brownie 5,500 won / Scone 3,500 won / Cookie 2,500 won
☞ Instagram: www.instagram.com/wanda_mansion (Korean only)
Culture and coffee meet at Bonbon Roastery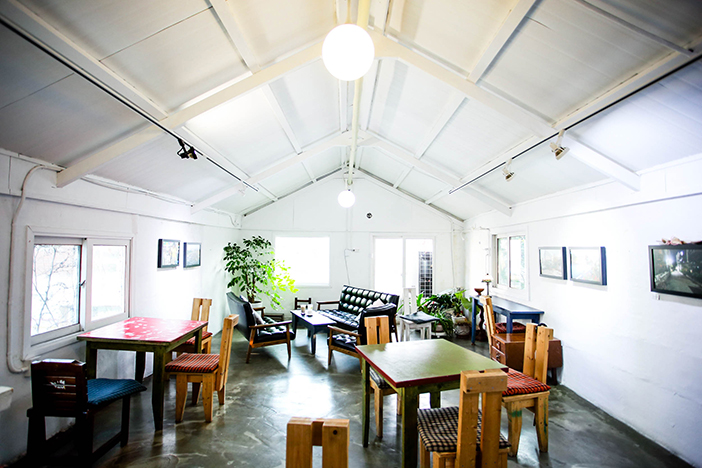 (2F Interior at Bonbon Roastery)
Bonbon Roastery was remodeled from an old abandoned mill and is now a café that shows appreciation for coffee and cultural arts. The atmosphere is calm and relaxing, welcoming visitors to settle down cozily at their seats. Coffee beans are personally roasted at the café then carefully poured over, pursuing excellence even to the last drop. The second floor resembles a gallery with displays of framed photos and artwork by local residents and artists of Gangneung. Treat yourself to a special teatime by taking a seat surrounded by outstanding works while enjoying a cup of hot coffee.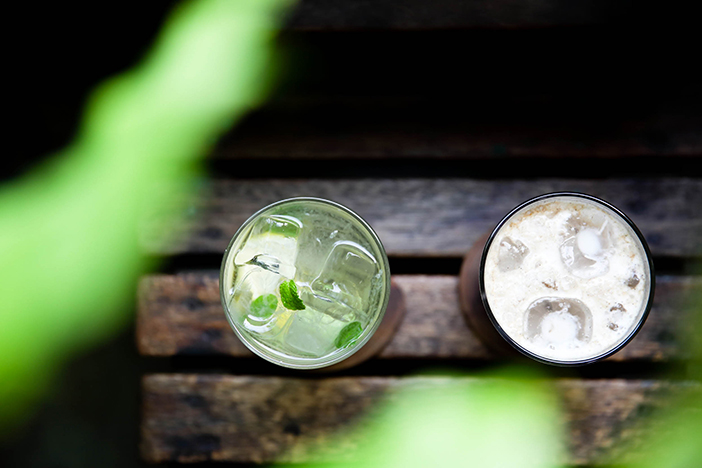 (Drink menus at Bonbon Roastery)

Bonbon Roastery can be characterized by its sincerity. The fragrance of carefully roasted beans fills the air, tickling your nose. Coffee lovers will be pleased with the diverse coffee options to choose from. If you're not a fan of coffee, other beverages are also available, such as the house special lemon grape bonbon, presenting a sweet refreshing taste to recharge your energy, or the misutgaru (powder mixture of roasted grains) drink with honey to make for a filling meal in a cup.
☞ Address: 17-1, Gyeonggang-ro 2024beon-gil, Gangneung-si, Gangwon-do
☞ Operating hours: 11:00-21:00 (Open until 18:00 on Sundays) / Closed Mondays
☞ Signature menus: Pour over coffee 5,000 won / Organic herb tea 4,000 won / Lemon grape bonbon 4,000 won / Misutgaru drink 5,000 won
☞ Website
- Instagram: www.instagram.com/bonbon.roastery (Korean only)
- Facebook: www.facebook.com/bonbon.roastery (Korean only)
Embrace the ocean at Bossa Nova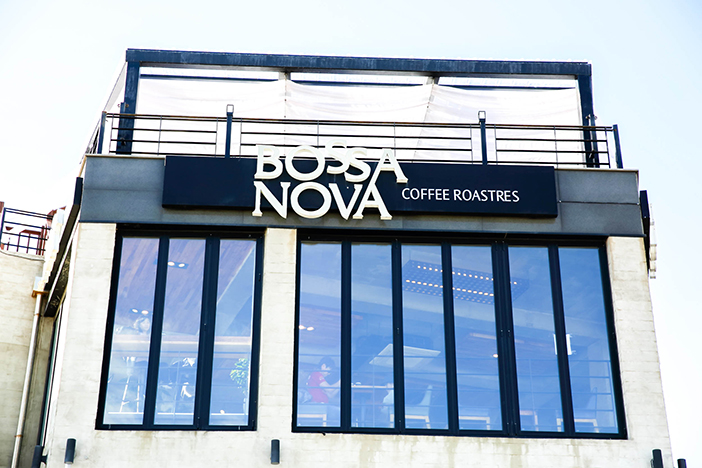 (Exterior of Café Bossa Nova)
Café Bossa Nova is located on Gangneung's famous Coffee Street near Anmok Beach. The café is a four-story building with a rooftop terrace on its top floor. Many people brace themselves against the cold winter breeze to take in the ocean view from this rooftop. A sip of hot coffee and the refreshing view of the blue East Sea are enough to blow your concerns and chills away along with the ocean breeze. If you can't handle the cold for long, head on downstairs to the indoor café with floor-to-ceiling glass windows that allow visitors to enjoy the ocean view in a warm, cozy atmosphere.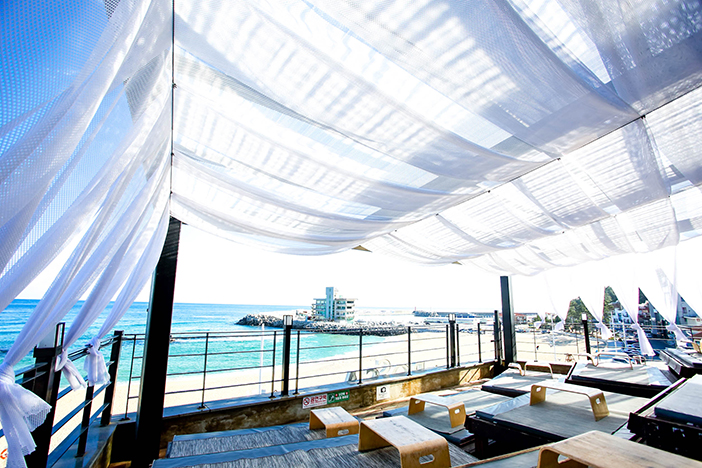 (Bossa Nova rooftop terrace and popular menus)

The breathtaking view of the vast ocean is not the only significance Bossa Nova has to offer – the café's true value lies in their outstanding coffee. Only the most exceptional coffee beans are carefully selected on a seasonal basis and prepared to bring out flavors as superb as the rooftop's view. The café opens early morning, offering fresh croissants and warm coffee to start the day. Other beverages beside coffees are also available so don't forget to include Bossa Nova into your itinerary.
☞ Address: 28, Changhae-ro 14beon-gil, Gangneung-si, Gangwon-do
☞ Operating hours: 09:00-24:00 / Open all year round (Subject to change)
☞ Significant menus: Pour over coffee 5,000-6,500 won / Americano 3,800 won / Green tea latte 4,300 won / Croissant 2,500 won / Pain au chocolat 2,500 won
☞ Website: www.bncr.co.kr (Korean only)
A truly romantic winter sight, Anmok and Jumunjin Beach
Beach road filled with coffee aroma, Anmok Beach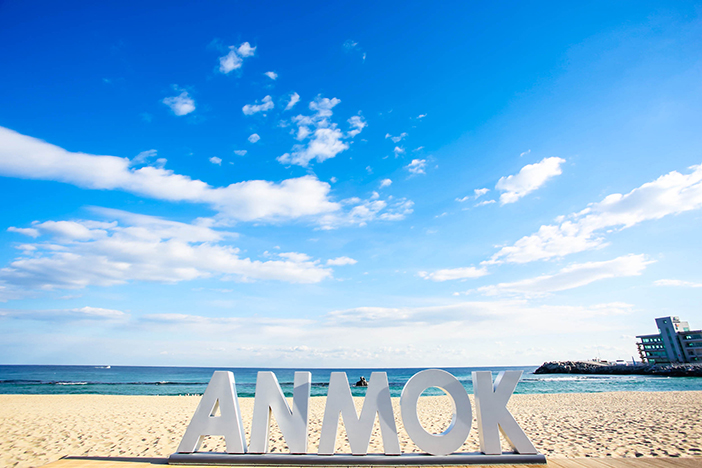 ("ANMOK" Beach)
The road along Anmok Beach has gained much attention as Gangneung Coffee Street. The street across from the beach is lined with coffee houses and cafés that boast distinct coffee aromas of their own. The well-managed pathway along the beach provides for a pleasant walk by the calm waters. In contrast to the bustling summer beach, the winter beach gives off a quiet and tranquil ambience, setting a perfect mood to dwell in thought before the new year arrives.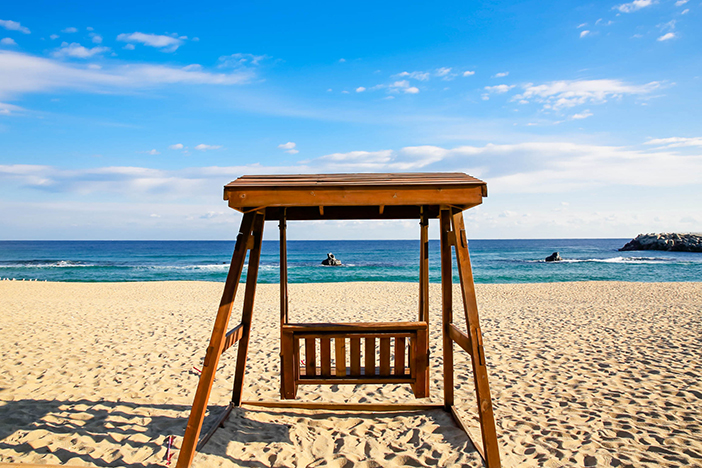 (Shore of Anmok Beach and a cup of coffee)

Two-seater porch swings can be found lined along the sandy beach where you can sit closely with your partner and share each other's warmth against the cold ocean breeze. The swings especially serve as a romantic photo spot for couples along with the open beach as a wonderful backdrop. Another way to enjoy winter at Anmok Beach is to take in the ocean view with a cup of hot coffee from the nearby coffee vending machine, a special experience available only in Korea. The sweet instant coffee is readily available at only 400 won per cup, so don't forget to prepare some coins in advance.
Follow the footsteps of "Guardian" at Jumunjin Port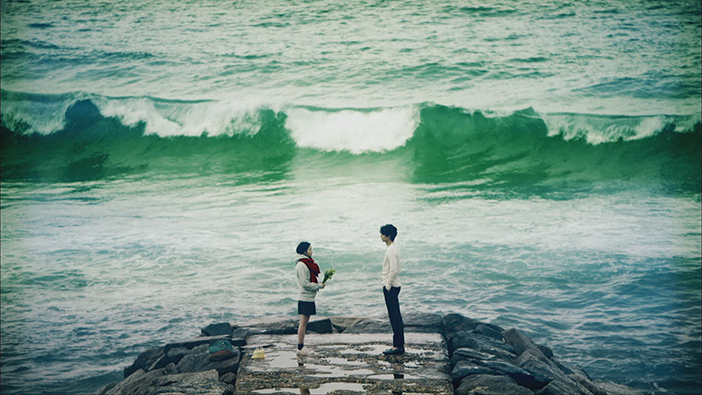 (A scene from "Guardian" (top) and the view of Jumunjin breakwater (bottom) (Credit (top): CJ E&M))

Jumunjin Port and its breakwater first came into spotlight upon appearing in the popular K-drama "Guardian: The Lonely and Great God (2016)," and continues to attract hundreds of visitors to this day. Many who flock to the area seek to take memorable photos by reenacting a significant scene from "Guardian" with the ocean in the background. Originally known for fresh hoe (sliced raw fish), Jumunjin Port consists of a huge hoe center where visitors can enjoy hoe menus at a reasonable price. Other attractions are also available near the port, such as the Jumunjin Beach and Jumunjin Lighthouse.
Anmok Beach
☞ Address: 20-1, Changhae-ro 14beon-gil, Gangeeung-si, Gangwon-do
☞ Nearby Attractions: Gyeongpodae Beach, Seongyojang House, Ojukheon House
Jumunjin Port (" Guardian" filming site)
☞ Address: 1609, Haean-ro, Jumunjin-eup, Gangneung-si, Gangwon-do
☞ Nearby Attractions: Jumunjin Beach, Jumunjin Lighthouse
More info
☞ Transportation (Seoul → Gangneung)
- KTX Gyeonggang Line (Opens December 22, 2017): Seoul Station - Gangneung Station (Adult fare 27,600 won / Travel time approx. 1 hr 54 min)
- Bus
· Seoul Express Bus Terminal - Gangneung Express Bus Terminal (Adult fare 21,500 won / Travel time approx. 2 hr 50 min)
· Dong Seoul Bus Terminal - Gangneung Express Bus Terminal (Adult fare 15,000 won / Travel time approx. 2 hr 20 min)
☞ Transportation (Seoul → Jumunjin)
- Bus: Dong Seoul Express Bus Terminal - Jumunjin Express Bus Terminal (Adult fare 15,800 won / Travel time approx. 2 hr 50 min)
☞ Korail website: www.letskorail.com (Korean, English, Japanese, Chinese)
☞ Express bus ticket reservations: www.kobus.co.kr (Korean, English, Japanese, Chinese)
☞ Intercity bus ticket reservations: txbuse.t-money.co.kr (Korean, English, Japanese, Chinese)
☞ Gangneung Tourism: www.gn.go.kr (Korean, English, Japanese, Chinese)
☞ Related column: Nature & Art Await in Pyeongchang
☞ 1330 Korea Travel Hotline: +82-1330 (Korean, English, Japanese, Chinese)