('Along With the Gods: The Two Worlds,' a movie based on the comic strip of the same name by Joo Ho-min, premieres on Dec. 20. (Dexter Studios))
Being dead is not the end of existence.
In Buddhism, there's a ritual in which an offering is presented to the Buddha when a person dies. The ritual is performed by reciting a sutra seven times every seven days for 49 days after the death. 
Some Buddhists perform this ritual as they believe that the dead must take part in seven trials within the 49 days, to determine whether they will spend the rest of eternity in the afterlife. 
Cartoonist Joo Ho-min's smash-hit comic strip "Along With the Gods: The Two Worlds" depicts a deceased man who is judged in seven hells for 49 days, guided by grim reapers and dark angels. The comic strip has now been turned into a movie. 
Kim Yong-hwa, director of the film, said at a press conference on Nov. 14 that, "I imagined what Hell looks like, and it's where there's no human existence and no relationship. I've chosen the salt flats of Salar de Uyuni, Bolivia, or a desert in Mongolia as the settings, where the vastness of an endless natural plain unfolds with no being in sight, giving a feeling of being in Hell."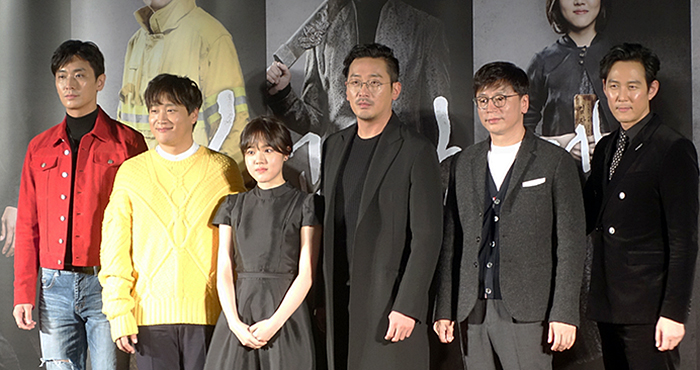 Director Kim Yong-hwa (second from right) and the main actors in the film 'Along With the Gods: The Two Worlds' pose for a photo during a press conference at Lotte Cinema in Gwangjin-gu District, Seoul, on Nov. 14. (Kang Gahui)
"Dramatic issues that everyone struggles to get through in their life, like death and life, crime and punishment, are dealt with in the film, which gives us powerful messages. After being part of this production, I realized that I should see the world in a proper light," said actor Ha Jung-woo who played the role of one of the angels of death in the movie. 
"Along With the Gods: The Two Worlds" is a two-part series. The first installation, slated to open on Dec. 20, depicts the afterlife of the dead. The second one, still untitled, depicts this life and is set to premiere in summer next year. 
This film has already garnered attention on the global scene, too. The screening rights for the film were sold in 103 countries at this year's Busan International Film Festival and at the American Film Market.