(A coronation ceremony for Emperor Gojong is reenacted to mark the 120th anniversary of the founding of the Daehan Empire, at Deoksugung Palace in Seoul on Oct. 12.)
On Oct. 12, 1897, which was the 17th day of the ninth lunar month, Emperor Gojong (r. 1863-1907) proclaimed the establishment of the Daehan Empire. 
Now, 120 years later, on Oct. 14, 2017, the coronation ceremony has been reenacted at Deoksugung Palace and Seoul Plaza in central Seoul. 
This has been the first time that the whole ceremony was reenacted according to the official "Gojong Daerye Uigwe" (고종대례의궤, 高宗大禮儀軌), the "Manual of Ceremonies for the Coronation of Emperor Gojong," which recorded the coronation ceremony and all its details. 
The ceremony began with a royal march that took place from Deoksugung Palace to Seoul Plaza, followed by the Gocheonje (고천제, 告天祭), a ritual to the god of heaven to inform him about the emperor's coronation. The event also featured the emperor's coronation ceremony, the proclamation of the Daehan Empire, and the whole procedure of the Hwangudaeje (환구대제, 皇帝大祭), an imperial ritual ceremony, where the kings of Joseon prayed for the wellbeing of their people. 
The reenactment of the Hwangudaeje took place on a temporary circular dais, 28 meters in diameter, built at Seoul Plaza, instead of at the Hwangudan Altar that was demolished during colonial times. 
The Hwangudaeje was the ritual to honor heaven and was conducted as an important court ritual, until they were forced to stop due to pressure from China's Ming Dynasty during the reign of King Sejo (r. 1455-1468). Emperor Gojong re-performed the ceremony as part of his coronation ceremony.
As an official emperor, he wore the sibiryumyeon, a crown decorated with 12 beaded lines, and the sibijangbok, a piece of royal attire decorated with 12 symbols, such as the sun, the moon, the stars, mountains and a dragon. In the past, mere kings would have worn the guryumyeon, a crown decorated with nine beaded lines, and the gujangbok, a piece of royal attire decorated with nine symbols, both of which were worn by past Joseon kings during their coronations.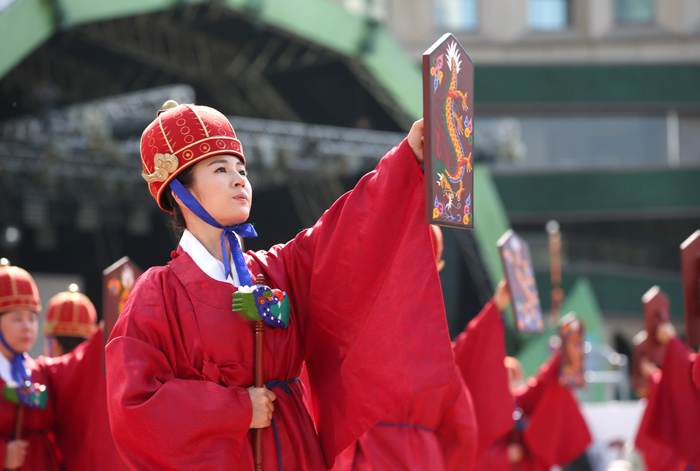 To celebrate Emperor Gojong's coronation, dancers perform a group dance, the parilmu (팔일무, 八佾舞), at Seoul Plaza on Oct. 14.
During the ceremony, the parilmu (팔일무, 八佾舞), a dance of 64 performers in eight lines, was performed to celebrate Emperor Gojong's enthronement. When the Daehan Empire was proclaimed, ceremony participants and all the citizens shouted, "Manse!" together, meaning, "Long live Korea!" in a wish for the emperor's longevity.
Lee Won, a descendant of Emperor Gojong, who played the emperor in the reenactment said after the event that, "The significance of this reenactment of the proclamation of the Daehan Empire, 120 years later, lies in the proclamation to the world that Korea is an independent country." 
"The most important reason to reenact this ceremony is to restore the Hwangudan Altar that was removed by Japanese colonial officials; to let the world know about Korea's independence in those times."