Fermented food showcased in Jeonju
(The 15th International Fermented Food Expo runs from Oct. 19 to 23 at the Jeonju World Cup Stadium in Jeonju-si, Jeollabuk-do Province, showcasing a variety of fermented food products from around the world. Pictured are some Korean fermented delicacies, such as jangajji pickled melon (참외 장아찌) and chwinamul jangajji (취나물 장아찌), a type of seasoned and flavored aster.)
Fermented food is a food type that people all around the world have enjoyed for many centuries. It varies quite widely in kind, too, being made from ingredients as varied as vegetables all the way to fruit and milk. It's also high in nutrition and excellent for storing for a long time. 
Among such fermented food items, there are wines, cheeses and yogurts -- universal delicacies of all kinds -- and then other types of food like Korea's fermented kimchi or Britain's Marmite, a spread for bread that's made from a yeast extract with salt and vegetable juice. There are also Japan's natto and Indonesia's tempeh, both made from soybeans through fermentation. 
The 15th International Fermented Food Expo, which ran from Oct 19 to 23 at the Jeonju World Cup Stadium in Jeonju-si, Jeollabuk-do Province, brought together in one spot all such fermented foods from around the world. 
Held under the theme of "Fermentation, the future of the food industry," the five-day expo showcased more than 3,000 kinds of fermented goods produced by a total of 350 makers from 20 countries, covering Korea, Japan, Georgia, Greece, Kenya, Colombia and Germany. 
There were various ranges of wines from Germany and Greece, raspberry vinegar from Ecuador and cheeses from Italy, France and Spain. A special pavilion was set up to spotlight Georgian food, from sauces fermented with fish, through to wines, cheeses and pickled foods. 
"The Jeonju expo was distinguished from other previous expos of its kind in other countries in that we identified how customers react to our products on the spot, as well as sought out new business opportunities," said CEO Paata Machavarini of the JASC Georgian Beer Company.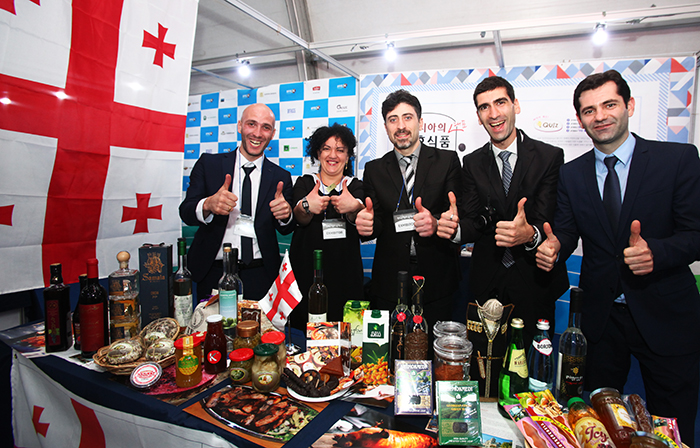 The 15th International Fermented Food Expo brings together a total of 350 fermented food makers from 20 countries at the Jeonju World Cup Stadium in Jeonju-si, Jeollabuk-do Province. Pictured is a variety of wines, cheeses, pickled foods and olive oil on display at the special Georgia Pavilion.
Representing Korea were, of course, kimchi as well as other traditional fermented sauces and pastes, such as doenjang soybean paste and gochujang red pepper paste. There were also rarely-seen items, like fig-based wine and tomato-based gochujang. 
Ten food masters who have kept alive local specialties from generation to generation revealed their skills. Among the items showcased here were a liquor made of pine flowers and needles that went through a 100-day fermenting process, napa cabbage kimchi and persimmon vinegar aged for 1,000 days. 
"Every country and every village has its own fermented food," said Jeollabuk-do Governor Song Ha-jin. "The Jeonju expo plays a role in helping to commercialize fermented foods and, also, to give related companies a chance to expand their business on the global scene," the governor added.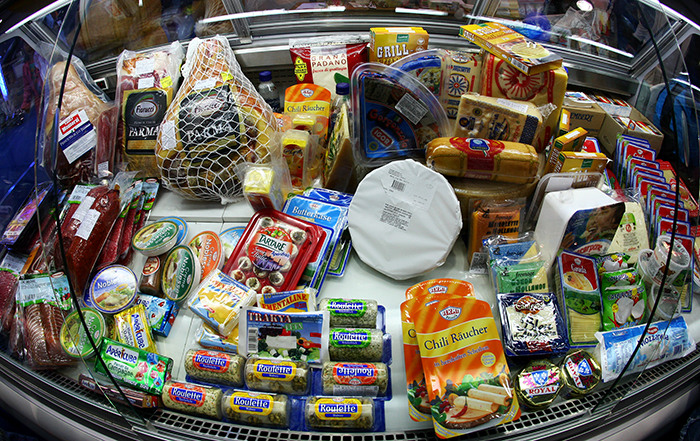 A booth set up at the pavilion for non-Korean companies at the 15th International Fermented Food Expo in Jeonju features a variety of cheeses from Italy, Greece, France and Spain.