(The fourth Seoul Kimchi Festival is held in Seoul Plaza and along Mugyo-ro in Jung-gu District, central Seoul, on Nov. 3.)
About 5,000 people gathered in Seoul Plaza to make kimchi on Nov. 3. 
The Seoul Kimchi Festival, marking its fourth anniversary this year, initially began in 2013 to mark the enlistment of kimjang (김장), the seasonal making and sharing of kimchi, as one of UNESCO's intangible cultural heritage items of humanity. This year's festival was held on Nov. 3 on the theme of "Kimchi-making day in Seoul with warm sharing." 
Seoul Mayor Park Won-soon said that, "Kimjang involves collaboration and it symbolizes one's community." 
"Kimjang has been added to the list of the world's intangible heritage items, and kimchi is a healthy fermented food that's an iconic dish of Korean cuisine," said the mayor. 
The kimjang sharing session, the key part of the festival, was held at Seoul Plaza on the first day of the three-day festival, which took place from Nov. 3 to 5, despite the cold weather. Hundreds of people, men and women of all ages, made kimchi together, stuffing the fermented cabbage with seasonings and vegetables, sampling each other's kimchi and practicing the acts of sharing and warmth. 
In the kimjang session for non-Koreans, a total of 100 participants learned how to make kimchi, while following a recipe that had been translated into English, simplified Chinese and Japanese. They also had the chance to enjoy some freshly made kimchi and bulgogi bibimbap mixed rice with marinated beef. 
Ibrahim Mohamad from Kuwait said, "I used to hear about kimchi and came to the festival to taste kimchi and to experience kimjang first-hand. We do have similar fermented foods back home in Kuwait, too, so kimchi is kind of familiar for me." 
Meanwhile, a total of 12,000 boxes of kimchi were made by 5,000 participants, including non-Koreans, over the course of the three-day festival. These kimchi boxes will be offered to charities and to families in need via the 25 district offices of Seoul.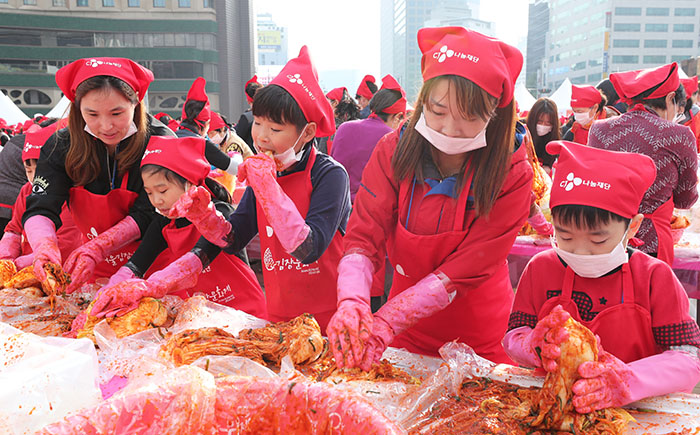 A family makes kimchi together during the fourth Seoul Kimchi Festival, at Seoul Plaza in downtown Seoul on Nov. 3.