As a classic vacation destination of Korea, Jeju Island's popularity continues to increase. Recently, many tourists have even begun enjoying extended vacations here. Although many of the island's significant attractions have been widely advertised, there are still many undiscovered gems throughout the island, such as small hidden beaches along the eastern coast, multicultural cuisines with a kick of Jeju's local flavors and adorable gift shops. Get ready to set out on a treasure hunt of a journey that will revitalize your mind and soul with this guide!
Follow the coastal road to meet Jeju's eastern attractions                       
The starting point of Jeju's eastern coast, Hamdeok Seoubong Beach

Hamdoek Seoubong Beach

Hamdeok Seoubong Beach is located an approximately 30-40 minute drive away from Jeju International Airport in the direction of Seongsan Ilchulbong Peak. This small but charming beach has emerald colored waters that resemble that of the Maldives. The beach is perfect for kids and beginner swimmers as the waters are only waist-high even away from shore. The surrounding nature of the beach also captivates its visitors with grass fields and palm trees lining the shore. In addition, visitors can take in the view of the ocean by following a walking path that leads to a suspension bridge connected to Seoubong Peak at the end of the beach. As Seoubong Beach is one of the few Jeju beaches to remain open at night, don't miss this chance to enjoy the evening sea breeze of Jeju Island.
Eat and drink with the ocean by your side at Mooger Burger and Delmoondo

Café Delmoondo and Mooger Burger

With its moderate waves perfect for surfing and ocean kayaking, Hamdeok Seoubong Beach is a haven to water sport fans. Splashing in the water is fun, but also works up an appetite; Café Delmoondo is the perfect spot to relax and recharge since it is located right by the beach. A sip of an icy cold drink while taking in the ocean view from Café Delmoondo's terrace is its own reward. The gentle sea breeze will surely cool you down and help you forget the summer heat.
If you're craving a meal to fill your stomach, Mooger Burger is your best option. Mooger Burger prepares house-made vegetable buns every morning using fresh local carrots, spinach and garlic. These buns not only taste as good as they seem, but are also healthier than regular buns as no preservatives are added. A bite of Mooger Burger's juicy burger washed down by a cold beer makes an excellent combination for a delightful summer.
More info
Hamdeok Seoubong Beach
☞ Address: 1008, Hamdeok-ri, Jocheon-eup, Jeju-si, Jeju-do
☞ Beach season: Until Aug. 31, 2017
* Remains open at night until Aug. 15 and closes at 21:00
Café Delmoondo
☞ Address: 1008, Hamdeok-ri, Jocheon-eup, Jeju-si, Jeju-do
☞ Operating hours: 07:00-24:00 (Last Order 23:30) / Open all year round (subject to change)
☞ Signature menus: Americano 5,000 won (additional 500 won for iced) / Ade 6,700 won
Mooger Burger
☞ Address: 356, Johamhaean-ro, Jocheon-eup, Jeju-si, Jeju-do
☞ Operating hours: 11:00-19:00 (Break time 15:00-16:00) / Closed Wednesdays
☞ Signature menus: Hamburger & French fries meal 9,500 won / Soft drink 2,000 won / Beer 7,000~9,000 won
Follow the wind turbines to Gimnyeong Seongsegi Beach

Gimnyeong Seogsegi Beach (top & left bottom) and Gimnyeong Yacht Tour (bottom right; credit: Jeju-si)

Driving approximately 10 minutes from Hamdeok will get you to Seongsegi Beach in Gimnyeong. As you head towards Seongsegi Beach on this road connecting Gimnyeong to Woljeong-ri, you will notice giant wind turbines lining the way. Follow the wind turbines and you will soon reach Seongsegi Beach where the line of turbines ends. Sparkling cobalt blue waters perfectly describe Gimnyeong's Seongsegi Beach. Hop on a yacht tour to get a closer look at this wonderful ocean while you test your skills at fishing. With just enough luck, you might be able see dolphins swim past the boat!
Beach of cafes and kayaks, Woljeongri Beach

Clear bottom kayak (top; credit: Jeju-si) & café Munui (bottom) in Woljeong-ri

With a name meaning "a place where the moon rests," Woljeongri Beach is as attractive as its name with waters so clear that you can see straight to the ocean floor. Thanks to its beautiful waters, paddling through the beach on clear bottom kayaks is one of the most popular water activities at Woljeongri Beach.
Another must-go attraction in Woljeong-ri is Munui, a unique café that promises insta-worthy photos. This café is filled with antiques and vintage furniture collected from all over the world by the café's owner. Recommended menus include the handmade latte made with local green tangerines and the sweet condensed milk coffee to boost your energy. The café also offers sandwiches to satisfy the hunger of visitors.
Gimnyeong Seongsegi Beach
☞ Address: 9, Haemaji Haean-ro, Gujwa-eup, Jeju-si, Jeju-do
☞ Beach season: Until Aug. 31, 2017
Woljeongri Beach
☞ Address: 33-3, Woljeongri, Gujwa-eup, Jeju-si, Jeju-do
☞ Beach season: Until Aug. 31, 2017
Gimnyeong Yacht Tour
☞ Address: Gimnyeonghang Port, Gimnyeong-ri, Gujwa-eup, Jeju-si, Jeju-do
☞ Operating hours: 09:00-19:00, Departs 9 times a day at every hour sharp (Operates 10 times a day until 19:50 in July-August)
☞ Fares (Regular Dolphin Tour): Adults 60,000 won / Children 40,000 won (60 min)
☞ Website: www.gnytour.com (Korean, English, Japanese, Chinese)
Woljeongri Kayak
☞ Address: 1400-4, Woljeong-ri, Gujwa-eup, Jeju-si, Jeju-do
☞ Operating hours: 09:00-18:00 (Until 30 min before sunset)
☞ Fees: Adults 10,000 won / Children (below age 7) 5,000 won
Café Munui
☞ Address: 56, Woljeong 5-gil, Gujwa-eup, Jeju-si, Jeju-do
☞ Operating hours: 11:00-20:00 / Closed Mondays
☞ Signature menus: Condensed milk latte 5,000 won / Green tangerine latte 6,000 won / Grapefruit latte 6,000 won / Sandwich 8,000 won
Journey to Wonderland at Daesugil Dabang and Sosimhan Bookstore

Daesugil Dabang

Taking photos and buying souvenirs are excellent ways to keep mementos of your trip. At Daesugil Dabang in Pyeongdae-ri, you are welcome to do both! Here you will find a variety of gift options, including postcards and dream catchers. However, what makes Daesugil Dabang truly special are the unique jelly candles crafted at this shop. These candles make for excellent gifts as they bear the beauty of Jeju by using seashells and sand collected from Jeju beaches. There are several candles to choose from, each with its own distinctive scent and color. The shop is renovated from a traditional Jeju-style house, each area designed in a different theme. The shop also doubles as a café so you can take a short rest while enjoying a drink.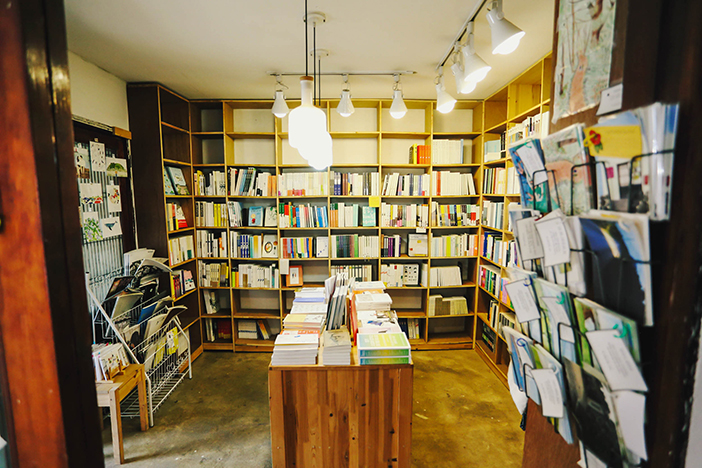 Sosimhan Bookstore

Language barrier is not an issue at Sosimhan Bookstore, located at the east end of Jeju Island in Jongdal-ri. The store largely consists of illustrated books even international visitors can enjoy. You might find it hard to leave the store empty handed as Sosimhan Bookstore also offers a wide range of merchandise like postcards, posters, mobiles, and other adorable decorative items and gifts made by the local artists of Jeju Island. Once you are done with your treasure hunt, treat yourself to a cup of ice barley tea readily available at the corner of the store to complete your journey of Jeju's eastern coast!
Daesugil Dabang
☞ Address: 24, Daesu-gil, Guwjwa-eup, Jeju-si, Jeju-do
☞ Operating hours: 11:00-18:00 / Closed Fridays
Sosimhan Bookstore
☞ Address: 29-6, Jongdaldong-gil, Gujwa-eup, Jeju-si, Jeju-do
☞ Operating hours: 10:00-18:00 (Break time 12:00-13:00) / Open all year round (Subject to change)
More Info
☞ Jeju Tourism website: www.visitjeju.net (Korean, English, Japanese, Chinese)
☞ 1330 Korea Travel Hotline: +82-2-1330 (Korean, English, Japanese, Chinese)