Hermes is one of the most iconic names among brands throughout history. Established in Paris in 1837, the brand offers a wide variety of distinct fashion items and luxurious home goods. It's most famous for its Birkin bag. On May 19, the re-opening party for Maison Hermes in Seoul took place, with the attendance of several TV personalities alongside actor Lee Joon Gi and singer and rapper Park Chanyeol from the pop sensation Exo.
One of the models at the event was Jane Aquino, a professional model with an inspirational story to tell. Her spontaneity and charismatic personality made it easy to gain acclaim from people who don't follow fashion but who do follow K-pop. To be specific, Aquino's performance at the event has stood out as her poses with Chanyeol were received, for the most part, with much love and support by the amazing community of Exo fans worldwide.
Today, Korea.net interviews the beautiful young Brazilian model Jane Aquino as she opens up about her past struggles in the field, and how she made it to Korea through the power of persistence, hard work and kindness, in addition to her experiences with K-pop stars.
It's noteworthy that Aquino has not only modeled clothing, but also makeup for such brands as FM Korea, and jewelry for brands like Enclair, and has done commercials for companies like Samsung and Hyundai. She has even ended up on a billboard for the latter conglomerate.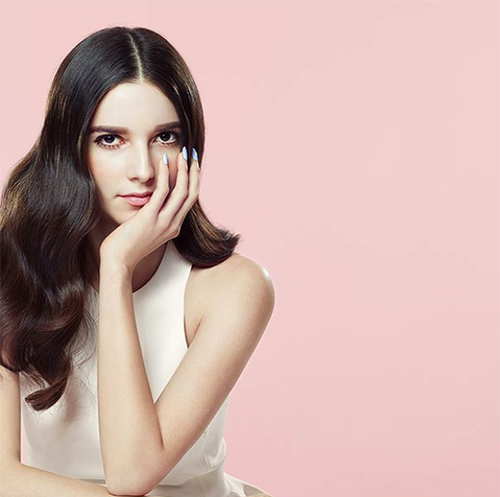 Brazilian model Jane Aquino has been in many commercials in the Korean market. (Jane Aquino)
- When did you discover your passion for modeling, and how did you start your way in the fashion industry?
It was at the very early age of around 13 or 14. At that time, my mother used to collect copies of Vogue and I remember looking at those women and thinking how I would love to be part of that magical world, their fancy clothes and do those types of unexpected poses. I come from a very simple family, so back in those times my parents didn't have much. Nonetheless, they wanted to provide me with the happiness of achieving my goal, even if it came at a cost. They put me in a modeling academy organized by Elite Models Brazil for six months. I participated in several contests, but nothing seemed to work. I tried several agencies, but failed to get any real work.
Being young, I just thought that the reason why I didn't get any gig was just that I wasn't good enough, and that I would never make it. I also felt guilty for spending money my parents barely had, besides the fact that I went to many castings throughout many years and all the time went back to waiting for days to get a call back that just wouldn't happen. It was too painful to handle for long, so at the age of 17 I decided to focus on my studies and started both fashion design and philosophy classes at college.
Studying very hard moved my focus away from modeling. The funny thing was that just when I had already completely given up, I got "discovered" by a very famous agent in Brazil who was also responsible for discovering many top models and also happened to be from mainland China. He was at an event at which I was volunteering as an assistant during Fashion Week in my city. I was just there helping the models dress and he came straight to me asking why I wasn't going to do the catwalk at the show, and that I should model in other countries, especially in Asia. I remember replying something like, "I'm not a model. I'm just working here to pay for my university."
Since I had already gotten so much frustration from modeling, it was hard to believe the stranger. He handed me his business card. Just out of curiosity, I decided to check him out online. That was when I realized I had just spoken with one of the biggest names in fashion in Brazil. I was surprised and shocked. I wondered why he would ever look at me and why he suggested working in other countries in Asia. I decided to write him an email with little hope that he would reply. He wrote me back quickly and set up a meeting.
Shortly after, I went to Sao Paulo, the biggest city in Brazil, and slowly started modeling again. I was 19 at the time and, unfortunately, back then my parents wouldn't agree to me travelling abroad for work opportunities. They wanted me to focus on my studies. They were afraid I would get frustrated again. Finally, after graduating from university at 21-years-old, I gained my parents' permission to travel abroad and to work as a model.
The famous agent I met sent my pictures to several agencies in Asia and finally a Korean one was interested in my profile. So in 2011 I had my first trip to Seoul. I was nervous and had no idea what to expect. I lived in a model's apartment with six other non-Korean models who would never accept me as a friend or as a housemate. Without any friends, I had no choice other than to focus completely on modeling. I quickly learned how to pose according to the Korean style: to always smile and to be grateful every single time they cast me. I guess the combination was what helped me succeed. After Seoul, I worked in several other capitals, but Seoul was always my favorite. So I decided to move there and try my luck as a freelancer with an entertainment visa. Since 2015, I've lived here and, believe it or not, my life has become busier than ever.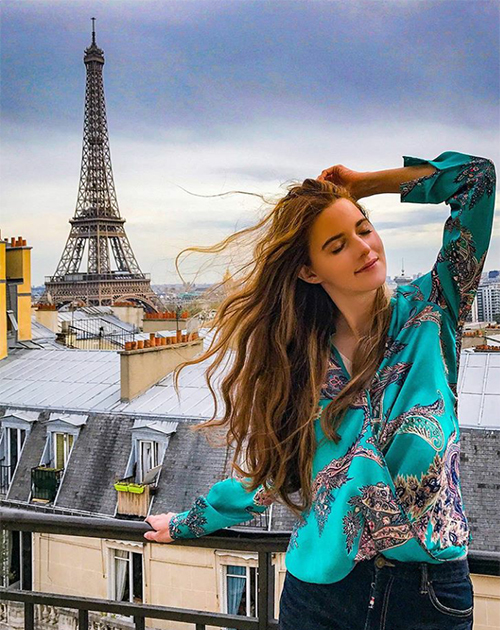 Model Jane Aquino poses for a photo shot for a Korean ad filmed in Paris. (Jane Aquino)
- Being from a foreign country, how did you practice your profession in Korea? Were you interested in Korea in particular beforehand?
Yes. I actually used to dress up in cosplay and was very much interested in Japan, and then Korea, for their values, culture, music, fashion and films. Nowadays, I prefer Korea so much more. It's also easy to say that Koreans highly value Western appearances quite a lot, so I was lucky!
-You attended Seoul Fashion Week in 2015. Can you talk about the experience?
My first time was in 2011, during my first time in Seoul, then, again in 2014 and 2015. Fashion Week has been actually really hard, with designers and producers constantly complaining about my weight. I like to stay healthy, but there's always pressure to lose weight during that week. We have to walk several hours per day before the show, wake up at around 5 a.m. and wait for many hours until the show starts. I have to say that even if it's hard and tough, I find it fascinating to be able to see so much diversity in design and style in Korea. I graduated in fashion, so I always look to the Korean fashion industry and to its creativity.
- You've modeled clothing, makeup and jewelry, as well as having done commercials. Which is your favorite field to model and why?
Actually I like all of them. I like to be eclectic and I think it's somehow required in order to be successful. My favorite part is pretty much being able to try new things that I haven't done before. I like to push myself further and to always improve. Whenever a brand or a designer introduces a challenging concept, I see it as an opportunity that allows me to go beyond what's expected. Reaching that point of giving over 100 percent of yourself and seeing them happy with your work is what also makes me happy.
- According to commercial footage of your project in Paris, you have a true admiration for the city. Can you give us a brief idea about the project?
That's a commercial for the Taiwanese market. It was my first time travelling to Paris to work with one of the best production companies in Korea, Zonybros, which is responsible for many pop videos, so I was extremely excited. Also, they decided at the last minute to add a little romantic scene with my boyfriend, who came with me. We filmed for three days from 6 a.m. until 9 p.m. and it was worth it. It was like a dream come true, filming with my love and for such a high-level production company. The behind-the-scenes footage that day was filmed by my boyfriend who owns a production company called Neo Seoul.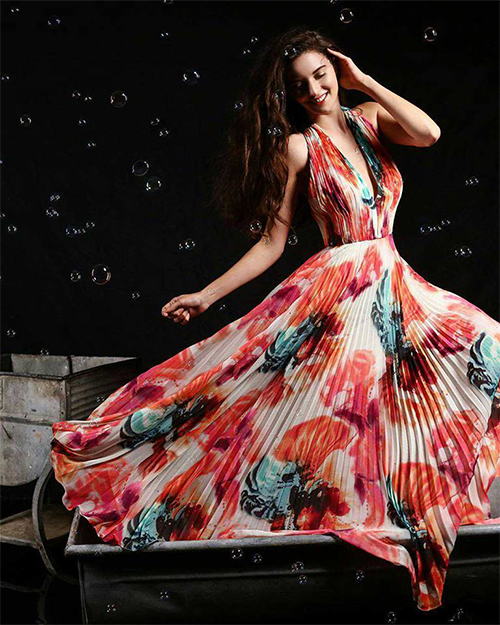 Jane Aquino has been modeling in Korea since 2011. (Jane Aquino)
- Congratulations on taking a significant part in the opening party of Maison Hermes at Dosan Park in Seoul. Can you talk about your role at the event?
Thank you. It was really an honor to be chosen as Hermes' model for the re-opening. I felt really lucky to be there. Each floor had a different concept and color representing different parts of a house. Mine was the pink floor and my role was to perform on a stage replicating a bathroom by interacting with guests in a playful and joyful manner. As people would come along, we would take pictures and enjoy the set together.
- You've caused so much delight among pop fans for your admirably bubbly pose with Park Chanyeol, a member of the group Exo. What was your reaction to their reactions?
At first I didn't expect to have any exposure at all, since I had actually worked with other Korean pop groups. I was in the "Hands Up" music video by 2PM and in a commercial for the government's Talk! Talk! Korea contest with other members of Exo. However, I guess because that picture looks quite intimate and personal, it went viral to a whole new level of exposure. At first, it was funny to see the memes. Then the hate mail started, saying that Chanyeol and I were too close in the picture, according to some fans. I wanted to turn the negativity into something bright and positive. So instead of getting upset, my boyfriend and I had fun with it, making our own funny memes. I think that was how things turned out the way they are now, with all the fans finally happy.
- Did you have any idea about Chanyeol or Exo before the event?
Yes, yes. Definitely! I listen to Exo and several other K-pop bands.
- Many fans are interested in the behind-the-scenes details of the photo. What was your interaction with Chanyeol like? Was there a language barrier?
As I said, I had to take pictures with several celebrities to promote the event and to make it more fun and enjoyable. I had a lot of fun with it since the concept required me to be playful and comfortable. When Chanyeol showed up, I remember thinking, "Oh my God. What should I do now?" I was nervous, so I just gave him the shower head so he could pretend it's a microphone. At the same time, I pretended I was brushing his hair. I think I was acting a little crazy since I was a bit embarrassed, knowing who he was. He didn't speak much. He just said, "Hi," and, "Thanks." Also, I could barely speak. It was Chanyeol from Exo. What could I say?
- From having a billboard of your commercial for Hyundai, to participating in an opening event for one of the most iconic brands of all times, what is your personal favorite moment you've had in your career so far?
There were many magical moments and I feel very blessed to have gotten all the work I've gotten so far. I would probably say the Paris work.
- What advice would you give to people who aspire to stand out in a highly competitive industry like modeling?
Always believe that you can do it. Always be kind. I know it sounds like a cliché, but it's definitely true. Keep doing the best you can in every opportunity you get. Show gratitude and don't be afraid to listen to, "No," at first. One thing I learned, having worked all these years, is that modeling is actually a lot about personality. It's about showing professionalism and charisma, being yourself. Keep dreaming and working hard because one day or another, it's going to pay off.
Thank you so much for this interview.
Online comics along with praising comments are not the only things offered by the young model's growing fans. Here's a sketch of the model made by one of her talented fans.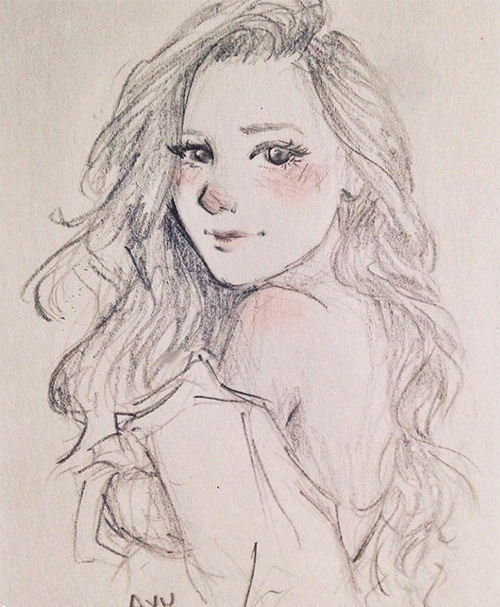 Model Jane Aquino has grown in popularity among the K-pop cognoscenti ever since she modeled alongside Exo member Chanyeol. Here, one of her fans draws a picture of her. Looking good! (Heyaoart's Instagram feed)