[Korean recipes for PyeongChang 2018] Rolled ginseng chicken soup
(Rolled ginseng chicken soup is an improved version of traditional ginseng chicken soup, as it allows people to enjoy the dish without having to remove all the bones while eating.)
Ginseng chicken soup or samgyetang is one of the most popular dishes in Korea, especially in the summer as the dish helps people stay healthy despite the heat.
The dish also wins popularity among non-Koreans, as it is both nutritious and tasty thanks to the delicious chicken, ginseng, jujubes, garlic and other Oriental medicinal herbs. 
The recipe for rolled ginseng chicken soup, one of the 10 selected recipes, is an improved version of the traditional ginseng chicken soup, as it maintains the taste and nutrition but removes the inconvenience of having to remove the bones from the meat. 
Director Yoon Sook-ja of the Institute of Traditional Korean Food says that, "The recipe of rolled ginseng chicken soup is a modernized, enhanced version of the traditional dish, as it uses boneless chicken meat, glutinous rice and ginseng, all of which are rolled and cooked with medicinal herbs and a clear stock." 
** Recipe for rolled ginseng chicken soup
Young chickens 2 (1.2 kg) 
Marinade for young chicken: Cheongju refined rice wine 1 tablespoon (15g), ginger juice 2 tablespoons (30g), salt 0.5 teaspoons (2g), crushed pepper 1 teaspoon (3g) 
Glutinous rice (soak in water for softness) 150g 
Jujubes 6, water chestnuts (peeled) 6, gingko nuts (roasted) 20, fresh roots of ginseng (susam) 2 
Chicken broth: milk vetch root 20g, fresh roots of ginseng (aged at least 4 years) 4, garlic cloves 4, jujubes 5, big blue lily turf 4g, green onions 160g, pepper 16g, water 15 cup (3L) 
Carrots 20g, Brussel sprouts 2 (4g)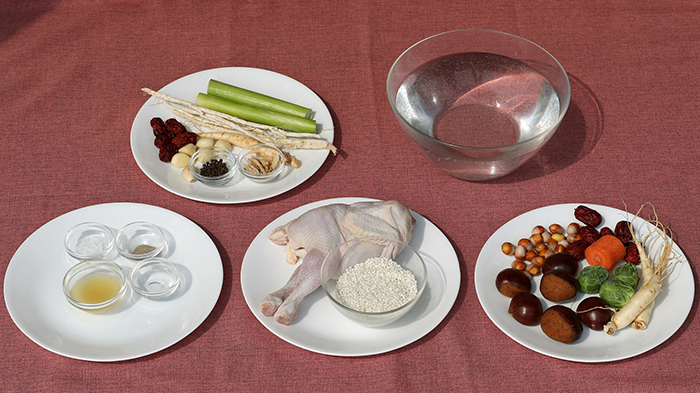 The main ingredients for rolled ginseng chicken soup are young chicken, garlic, fresh ginseng, chestnuts, jujubes and gingko nuts.
** Instructions
1. Cut the young chicken in half. Remove the intestines and fat and wash it with water. Remove any bones and marinade meat.
2. Mix the soaked glutinous rice with the diced jujubes, water chestnuts, gingko nuts and fresh ginseng. Put it all into a steamer and steam for 1 hour.
3. Wash the milk vetch root and let it soak in water for 2 hours. Wash the fresh ginseng and cut off the ends. Wash the garlic, jujubes, big blue lily turf and green onions.
4. Put the milk vetch root, big blue lily turf and chicken bones in water and boil over a high heat. Once the water boils, pour off the water and add fresh water. When the freshly added water boils, put in the fresh ginseng, the garlic, jujubes, green onions and pepper. Boil over a medium heat for 40 minutes. Skim off the build up from the top to make a clear chicken broth.
5. Roll the glutinous rice with the young chicken meat and tie it together with a thick thread. 
6. Put the chicken roll, carrots and Brussel sprouts into the chicken broth and simmer over a low heat for 15 minutes. Add salt and pepper to taste.