Lotte World is one of the must-go places when you are in Seoul! Featuring one of the world's largest indoor amusement parks, Lotte World features both indoor (Adventure Park) and outdoor (Magic Island) sections. More than anything, though, the largest draw of this amusement park lies in the fact that it is located in Seoul, easily accessible via public transportation!
As Lotte World is quite large in scale, a visit without proper planning may result in an unfruitful trip due to excessively waiting in line or missing signature rides. Read on to find out how you can make full use of the admission ticket and enjoy a memorable time at Lotte World!
Useful Tips for Visiting Lotte World!
For travelers planning to go to Lotte World, here are some things that you should know before your visit!
1. Magicpass, the express ticket to thrill rides!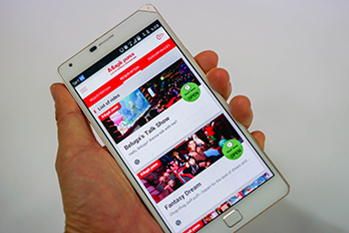 Magicpass
As Lotte World is also a popular attraction among Koreans, the wait time for most thrill rides will range from at least 30 minutes to over an hour. At such times, it is best to use Magicpass! This is an express pass available for one-day ticket holders and annual membership holders that allow riders to make advanced reservations for select rides, greatly reducing one's wait time. Reservations can be made by first downloading the Lotte World Magicpass mobile application (available in Korean, English, Japanese, and Chinese), and then selecting any vacant time slots for your desired ride. However, Magicpass reservations are limited to three times a day per individual. If you wish to make more reservations for the rides, you can always purchase the Magicpass Premium. Magicpass Premium offers two different passes, first, Five Item Pass where you can reserve five times a day, and second, Freepass which allows you to make reservations on all attractions in the park. To purchase a Magicpass Premium, you must first purchase a one-day pass.
2. Enter after 4 PM for a discounted price!
There are two types of one-day ticket; full day and after4. The full day ticket is suitable if you have plans to spend the entire day at Lotte World but if you are only planning to spend a few hours at the amusement park, the after4 ticket is highly recommended. Available for all admissions after 4 PM, the price is about 10,000 won cheaper than the regular full day ticket!
3. Store your items in a locker and GO!
Locker
Besides one's mobile phone, wallet, camera and other small items that are necessary and simple to carry around, lockers are available for visitors to keep all other belongings safe. Lockers can be found in 9 different spots spread across the theme park, and a one-time use costs 1,000 won to 2,000 won payment in advance. Extra charges will only be incurred when items are stored for over 24 hours.
4. For memorable photo mementos, headbands are a must!
If you would like to capture a special moment in Lotte World, take a photo wearing a fun headband! Almost all Koreans at Lotte World can be seen wearing headbands. They also make great gifts for children. The headbands with Lotte World characters and various animal characters come in a variety of colors and designs, making it fun to pick one out. Headbands can be found at all gift shops within Lotte World.
How much of Lotte World have you enjoyed?
Lotte World is a place where all visitors can play to their heart's content. As long as you are informed before you visit, you will be able to enjoy a smooth and pleasant time. Don't miss out on the top thrill rides, photo zones and other must-see attractions when you visit Lotte World!
Enjoy seasonal festivals & performances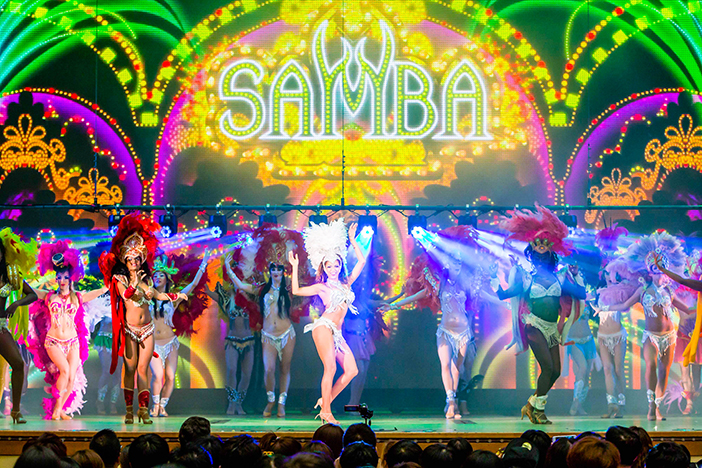 Rio Samba Carnival performance (Credit: Lotte World)
Lotte World is known for its themed festivals and performances all year-round. Every spring, masked performers dance and sing to music in the Mask Festival while during summer dancers in vibrantly colored outfits can be seen at the Rio Samba Carnival. In autumn, visitors can become friends with ghost at the Happy Halloween Party and winter brings the Happy Christmas Parade. In order to fully enjoy the performances, visitors may want to consider the seasonal themed festivals of their desired choice before planning a trip to Lotte World.
Virtual World hidden around the park, enjoy "VR Fantasia".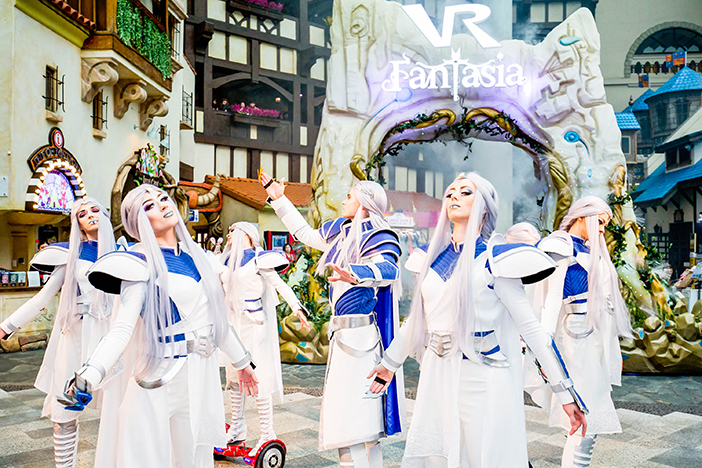 VR Fantasia (Credit: Lotte World)

VR Fantasia, opened in March 2017, offers visitors a virtual reality experience through June 18. The storyline of VR Fantasia is that one random day you find an interesting looking mask inside the amusement park, and when you put it on, a doorway is opened between reality and the virtual world. You will be able to experience VR through performances, visuals and rides.
"VR Space" located on the basement third floor of the Indoor (Adventure) Park, offers diverse VR gaming experiences using goggles and equipments. There are a total of five themes including "Sky High," a shooting game with missions played from a 100-story tall building, speed racer experience, baseball game experience, and more.
If you enjoy stimulating horror experiences, go up to the third floor of the Indoor (Adventure) Park, to experience the Horror VR. Horror VR is a 4D experience with motion simulation and wind effects that takes you on a mission to escape a laboratory filled with zombies.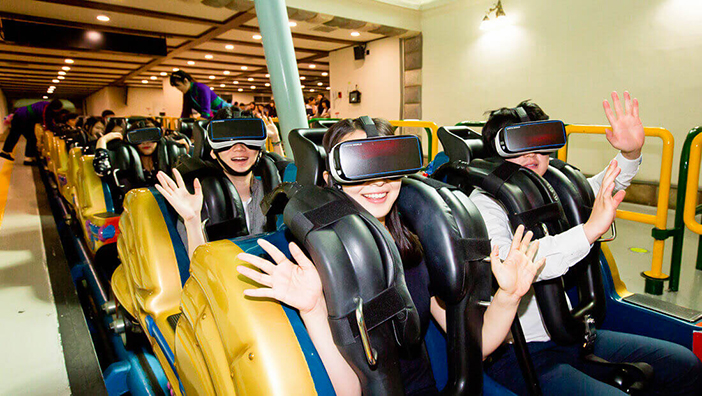 VR Ride experience (Credit: Lotte World)

The highlight of VR Fantasia is the "VR Ride." VR Ride incorporates already popular rides with VR experience, giving riders a extra dose of thrill. The French Revolution and Gyro Drop use goggles to portray futuristic cities and fantasy worlds full of monsters.
Full-body thrills! Enjoy amusement rides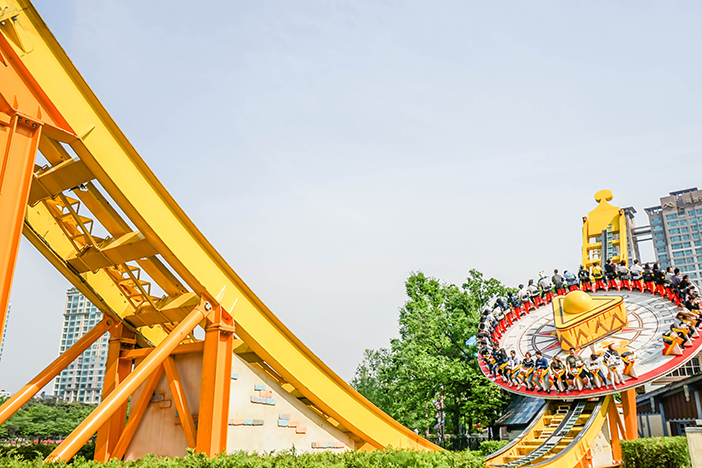 Major rides at Lotte World

The best way to enjoy Lotte World is undoubtedly taking the rides. There are a total of 47 rides (as of May 2017) offered and visitors may choose to ride from diverse genres based on their own likings. The most representative ride that offers an overview of the vista indoors is the Hot Air Balloon Ride, while the World Monorail is a ride that allows visitors to have a view of both Adventure and Magic Island in one setting. Visitors may also feel like they are in a romantic fairytale as they ride a horse on the carousel. For those who are bold and more adventurous, you may try Atlantis, an excited ride that combines the thrilling sensation of a roller coaster and a flume ride, or one of the three highlights of Magic Island, the Gyro Drop, Gyro Swing, and Gyro Spin.
※ Rides are subject to closure depending on the weather and safety checks.
Take an unforgettable photo! Capture the moment at photo zones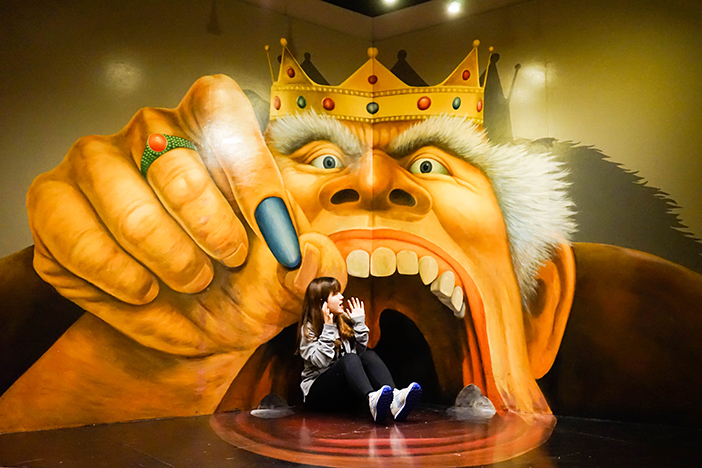 Fascinating Art Museum
Not only are there many exciting rides in Lotte World, there are also many spots to take photos, such as photo zones with cute characters, or signboards with funny text. Among the several hidden photo zones where visitors may take unique and memorable photos, Fascinating Art Museum is a definite must! Featuring outstanding optical illusions, the images here serve as great photo ops for all visitors!
TIP) Recommended photo spots at Lotte World!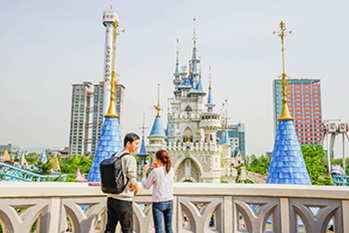 Magic Island
The castle on Magic Island is a popular photo spot. Pictures taken here give off the feeling of having just stepped out of a fairytale.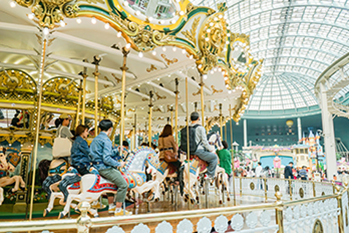 Carousel
The dazzling carousel found indoors is also a popular choice for those looking to take a photo in a more romantic setting.
Nearby Attractions
As fun as it is to explore within Lotte World, there are other attractions nearby that are worth a visit if time allows! These attractions are equally remarkable and time might even pass by in the blink of an eye!
Miniatures of the past at Lotte World Folk Museum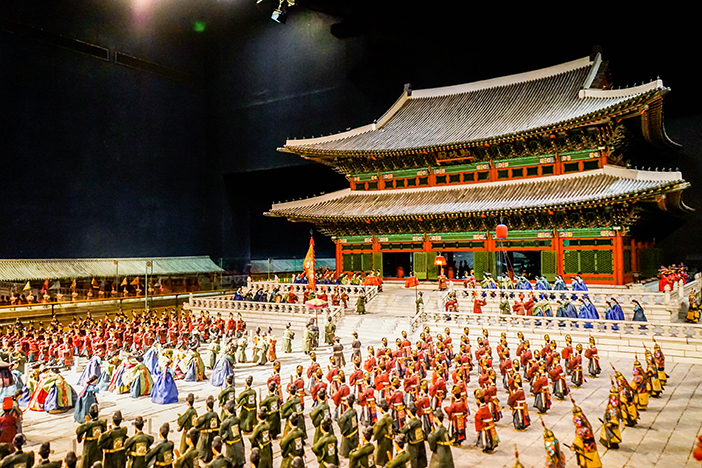 Lotte World Folk Museum
The Folk Museum at Lotte World is a highly recommended exhibition space, providing international visitors with the chance to see representative cultural relics and lifestyles of Korea's past. Through cutting edge videos and miniature sculptures, the past will come to life right before visitors' eyes. The History Exhibition Hall features information on the history and changes in national culture over time, ranging from the prehistoric era to the Goryeo Dynasty. One-eighth sized dioramas of typical scenes of life during the Joseon Dynasty are on display at the Model Village. Moreover, visitors may also catch traditional artistic performances at the Nori Madang located inside the folk museum.
Enjoy ice skating year-round at Lotte World Indoor Ice Skating Rink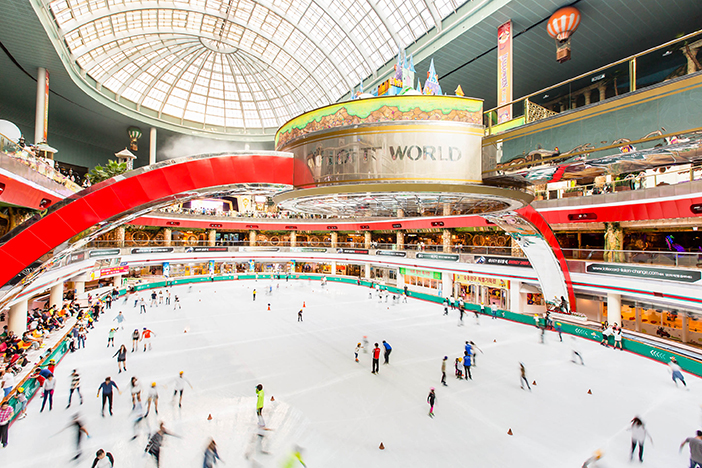 Lotte World Ice Skating Rink (Credit: Lotte World)
An ice rink operating throughout all four seasons can be found at Lotte World. With the capacity for a thousand people, Lotte World Ice Skating Rink is a grand space connected to Lotte World Adventure indoors. Plus, Lotte World ticket holders are entitled to a discount when using the ice rink. Make full use of your trip to Lotte World by enjoying both facilities!
An underwater ecosystem! Lotte World Aquarium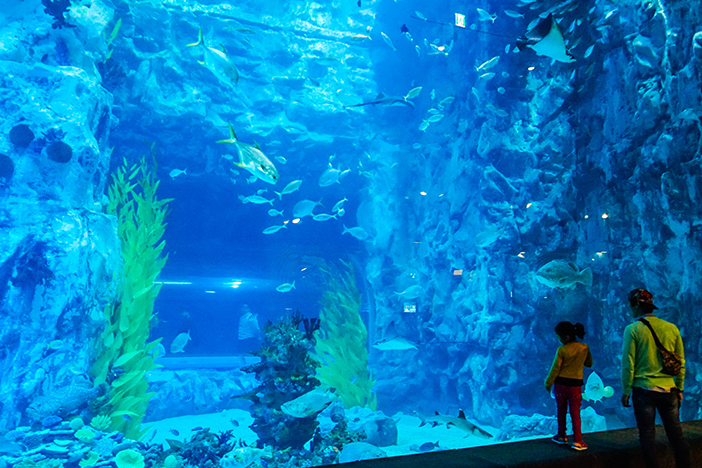 Lotte World Aquarium
Lotte World Aquarium is designed with the motto "a place for understanding among people and the sea." This aquarium is one of the largest in the city, with two levels for visitors to explore. Enjoy the various themed corners, spot marine life from rivers to coastal shores and sea. Above all, do not forget to check out the underwater tunnel, the longest in the nation with a length of 85m!
The grandest shopping complex in the city, Lotte World Tower & Mall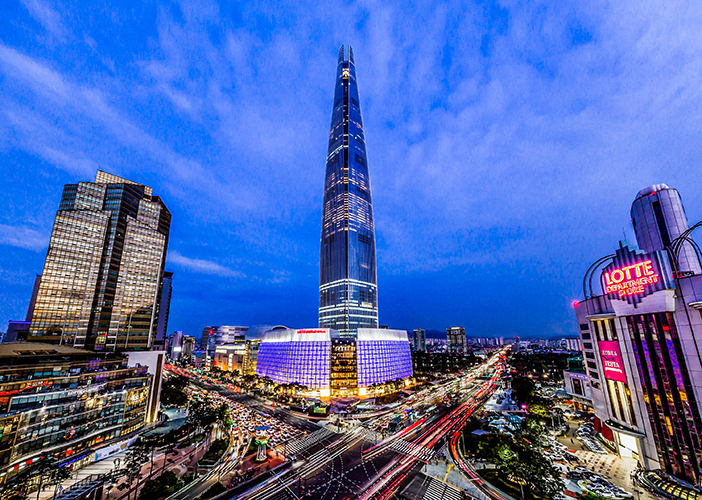 Lotte World Tower & Mall (Credit: Lotte World)
For travelers who love shopping, Lotte World Tower & Mall is a must. Lotte World Tower draws the eye even from the outside with its 123 floors rising high, featuring a motive of traditional Korean ceramics and writing brushes. Seoul Sky, a new landmark, on top of the building is the highest indoor observatory in Korea, offering the ability to see a panoramic view of Seoul. With focus on women tourist, you can find stores that offer small and cute interior items, unconventional dessert cafés and restaurants, for all your shopping needs. On the other hand, Lotte World Mall, located next to the tower and opened in 2014, is one of the top shopping attractions in Seoul with a variety of domestic and foreign brands. The multi-complex offers a wide-range of facilities including Lotte Mart, shopping mall, duty-free stores, a movie theater, and more.