(Fall foliage at Mooee Arts Center)
Inspirational moments in artistic spaces
Mooee Arts Center is just a 10-minute drive from Bongpyeong 5-day Market. Located within the grounds of the closed Mooee Elementary School, the center has transformed the classrooms and playground into exhibition galleries and open studios for local artists. The man-made artwork harmonizes beautifully with the naturally made artwork of Bongpyeong's landscape.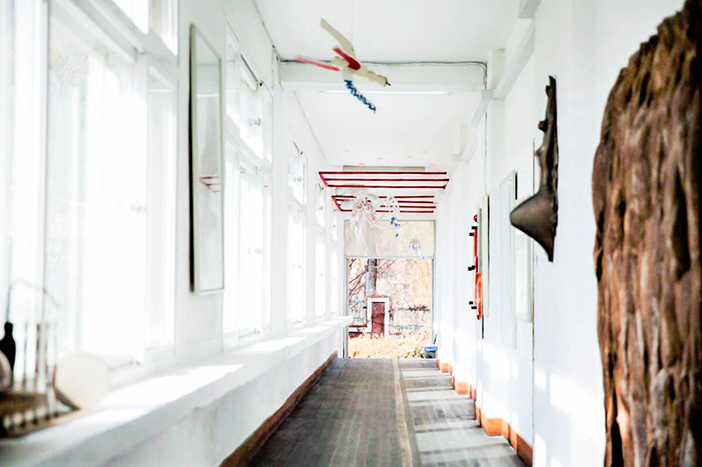 (Objet d'art at Mooee Art Center)

The exhibitions of lovely art pieces fill Mooee Arts Center from the entryway to the old classrooms. There are also organs placed throughout the center, open for all guests to play a tune. The second floor of the school is a resting space, equipped with plenty of seating and an open terrace to take in the wonderful view and the weather when it's nice.
Observatory café atop the hill, Vasello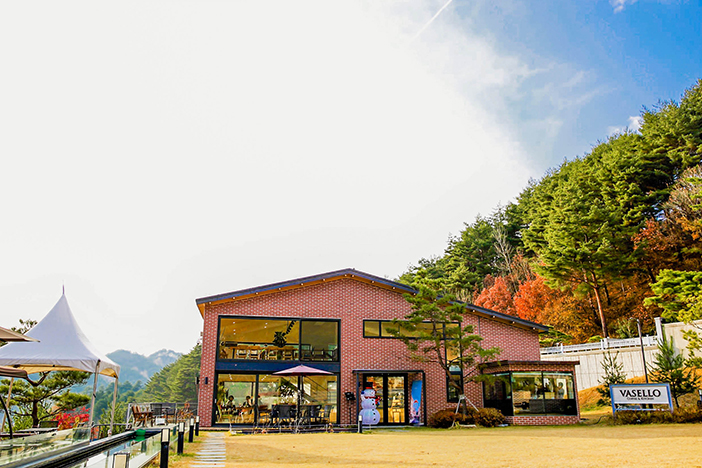 (Exterior of Vasello)
Vasello is located atop a hill covered with a lush forest. Despite the cozy, isolated feeling, the café is actually quite close to Bongpyeong 5-day Market and Jangpyeong Bus Terminal. It's also close to Phoenix Snow Park, great for a ski trip itinerary. After a fun day on the slopes, feel the cold melt away at Vasello.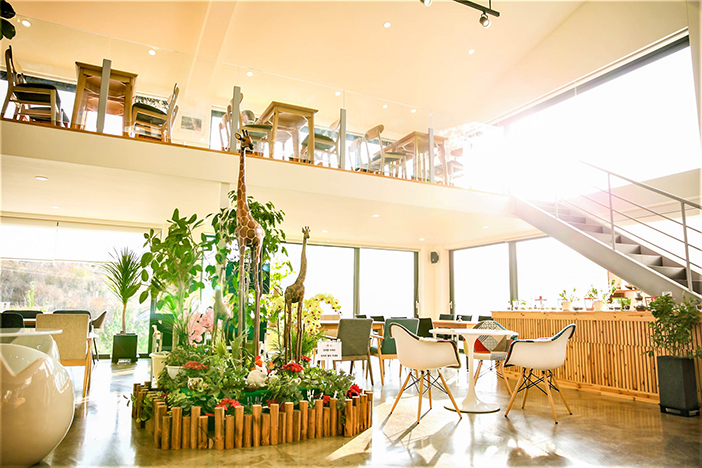 (Interior of Vasello (top), gorgonzola pizza & red velvet cake (bottom))

The entire interior of Vasello is filled with natural light, flowing in through the floor-to-ceiling windows. Travelers looking for a bite to eat can fill up with the sweet cheese and honey harmony of gorgonzola pizza. If you need a quick energy boost, their signature red velvet cake is sure to do the trick.
Mooee Arts Center
☞ Address: 233, Saripyeong-gil, Bongpyeong-myeon, Pyeongchang-gun, Gangwon-do
☞ Operating hours
- March-October: 09:00-19:00 / Closed the first and third Monday of each month
- November-February: 10:00-17:00 / Closed Mondays
* Last admission 30 minutes before closing
☞ Admission: Adults 3,000 won / Teenagers & Children 2,000 won
☞ Website: mooee.kr (Korean only)
Café Vasello
☞ Address: 53, Neumeugol-gil, Yongpyeong-myeon, Pyeongchang-gun, Gangwon-do
☞ Operating hours: 10:30-22:00 / Open all year round (Hours subject to change during winter)
☞ Signature menus
- Pizza (Gorgonzola, Margherita, Bulgogi) 14,900 won / Red velvet cake 3,500 won
- Americano 4,500 won / Milk tea 5,500~6,500 won / Fresh fruit juice 6,000 won