(The New York Times publishes an article about director Park Chan-wook and his body of work on Oct. 16. The story was one of seven profiles and seven cover stories of T Magazine's 'The Greats' issue, and it hit newsstands on Oct. 22.)
The New York Times (NYT) published a feature on director Park Chan-wook on Oct. 16, with the title "Park Chan-wook, the Man Who Put Korean Cinema on the Map."
The story was one of seven cover stories to T Magazine's 2017 "The Greats" issue, and hit newsstands on Oct. 22.
T, a lifestyle magazine distributed with the Sunday edition of the NYT, celebrates seven "Greats" or masters in the arts field each year. Park Chan-wook was recognized as an "influential auteur" in this year's issue. 
The article introduced Park as "arguably South Korea's most famous film director, known nationally and internationally for his 2002-05 Vengeance trilogy - 'Sympathy for Mr. Vengeance,' 'Oldboy' and 'Lady Vengeance' - films that helped bring Korean cinema to the world stage, even as they established Park as a fearless investigator of the violence in people's hearts."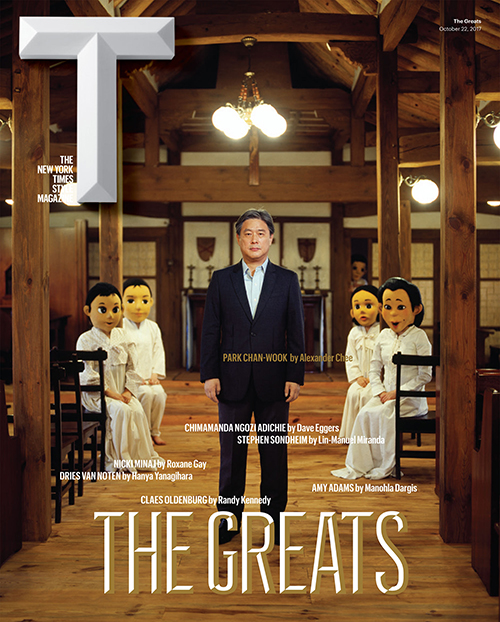 Director Park Chan-wook is recognized as an 'influential auteur' in T Magazine's 2017 'The Greats' issue, and is featured as one of the seven covers of the magazine, which hit newsstands on Oct. 22.
Commenting on Park's reputation as "Mr. Vengeance," the article said that this suggests that his films are composed as violent spectacles. However, "It's more accurate to say that his eye for detail and composition is nearly unmatched," so much so that when he mines visceral horror, "the images are so spellbinding they pull you in rather than repel you," it argued. 
"The reason these images resonate, in this age when so much violence has dehumanized us, is that his films return more feeling to the viewer than they take away, born as they are from his love for the underdog -- the person driven to the edge of despair and then beyond it," it added.
The article described Park's latest feature "The Handmaiden," released in 2016, as a film that "has been hailed internationally as an erotic masterpiece," and said that "the film is so popular in Korea that it has inspired an extensive community of fans of the kind usually reserved for teen K-pop idols."
The article also delved into the director's upbringing in Korea in the 1980s, when a young Park would watch foreign movies on the U.S. military's free-to-air TV channel, the American Forces Korea Network (AFKN), on his family's black-and-white TV. The article also shares anecdotes about Park's first encounter with a James Bond film, and how he was inspired to become a film director after watching Hitchcock's "Vertigo" in college, among other major milestones in the filmmaker's career.
"Creativity finds new expression in the gleefully, operatically bloody works for director Park Chan-wook," said T Magazine editor Hanya Yanagihara in the editor's letter of "The Greats" issue. "[He] has managed to both single-handedly define what Korean contemporary cinema is while at the same time reinventing film altogether."