【 Photo: Korean train (Credit: Korea Railroad Co., KORAIL) 】
Foreign nationals visiting Korea to enjoy the upcoming winter sport events can make wonderful memories with the PyeongChang Korail Pass! Visitors entering Korea after August 1, 2017 are eligible to purchase this special tourist pass. The pass can be used an unlimited number of times on trains throughout Korea during the pass duration between February 1, 2018 and March 25, 2018. See all of Korea, including Pyeongchang, Gangneung, and Jeongseon, with comfort and ease at a great discounted price!
PyeongChang Korail Pass
The PyeongChang Korail Pass is a foreigner-exclusive train pass to commemorate the winter sport events taking place February-March, 2018. The pass is available for purchase until December 10, 2017. Passes can be purchased in a 5 day type or a 7 day type, valid for a consecutive number of days from February 1, 2018 to March 25, 2018. Pass holders can use KTX and other Korail-operated trains for an unlimited number of times within their selected pass validity period.Ticket sales period is subject to change without notice.
PyeongChang Korail Pass types:
5 day pass, 7 day pass (consecutive days)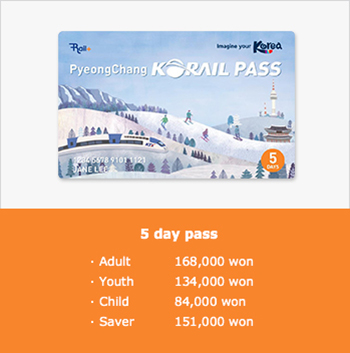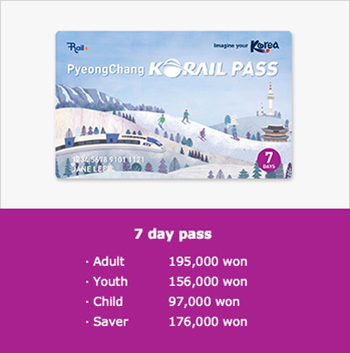 Adult (Ages 26 and older), Youth (Ages 13-25 or International Student Identity Card holders), Child (Ages 4-12), Saver (Groups of 2-5 people)
Available train options
General trains
KTX
KTX-Sancheon
ITX-Cheongchun
ITX-Saemaeul
Saemaeul
Mugunghwa
Nuriro
Commuter trains
Commuter trains
Tourist trains
O-train
V-train
A-train
S-train
G-train
DMZ-train
Pass not accepted on subway, SRT, or select tourist trains (Sea train, etc.)