Robot carries Olympic flame
(The humanoid robot Hubo 'runs' while holding the flame for the 2018 PyeongChang 2018 Olympic and Paralympic Winter Games, at the KAIST campus in Daejeon on Dec. 11.)
Robots have taken part in the journey of the Olympic flame for the upcoming PyeongChang 2018 Olympic and Paralympic Winter Games, the international winter sports festival that represents peace on Earth. 
The first robot bearer of the Olympic torch was DRC Hubo.
The humanoid robot successfully completed a 200 m segment of the torch relay at the Korea Advanced Institute of Science and Technology (KAIST) campus in Daejeon on Dec. 11, becoming the first robot to carry the Olympic torch. 
People hailed the robot's brief run, expressing their expectations for the state-of-the- art IT and other tech that will be revealed during the upcoming Winter Olympics. 
Hubo was the winner of the Defense Advanced Research Projects Agency (DARPA) Robotics Challenge in 2015, an international competition to test disaster response capabilities of robots. DARPA is part of the U.S. Department of Defense. 
The torch was passed from Hubo to roboticist Dennis Hong from the University of California Los Angeles, and to KAIST Professor Oh Jun-Ho by turn. It was then passed to FX-2, a robot controlled by a human driver. 
FX-2 was jointly developed by Professor Oh's research team, the Hubo Lab, and Oh's venture start-up, Rainbow Robotics, specifically for the torch relay for the Olympics, and was revealed that day for the first time.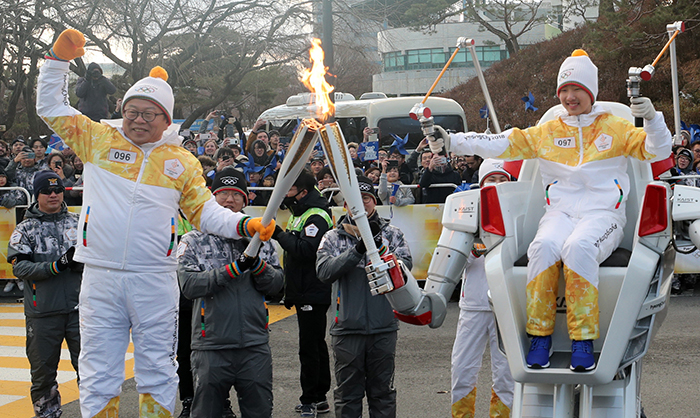 KAIST Professor Oh Jun-Ho (left) passes the Olympic torch to the human-operated robot FX-2, controlled by Lee Jung-jae, the winning team leader of Korea's Junior Software Cup, at the KAIST campus in Daejeon on Dec. 11.
The Olympic torch has been traveling across key regions in Chungcheongnam-do Province, including Buyeo, Taean, Seosan and Gongju, while tracing the historic sites of Baekje, one of Korea's ancient kingdoms, since Dec. 5. It will travel to Boryeong and the Sejong Special Self-Governing City on Dec. 13 and 14, and then head to Asan and Cheonan.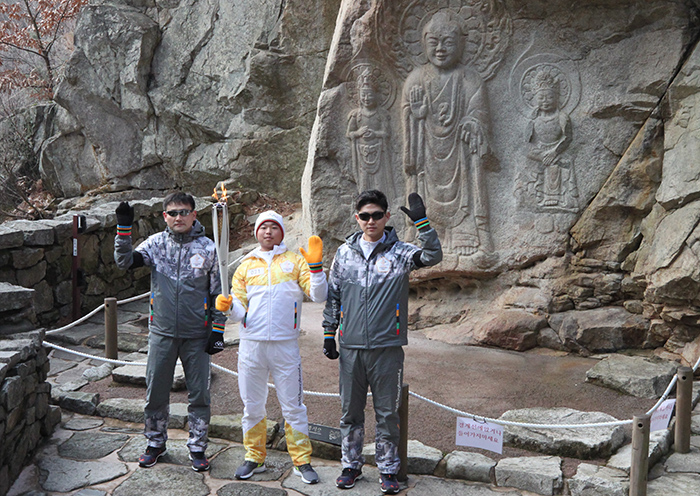 Olympic torch bearers pose for a photo in front of the Rock-Carved Buddha Triad in Seosan, Chungcheongnam-do Province, on Dec. 7.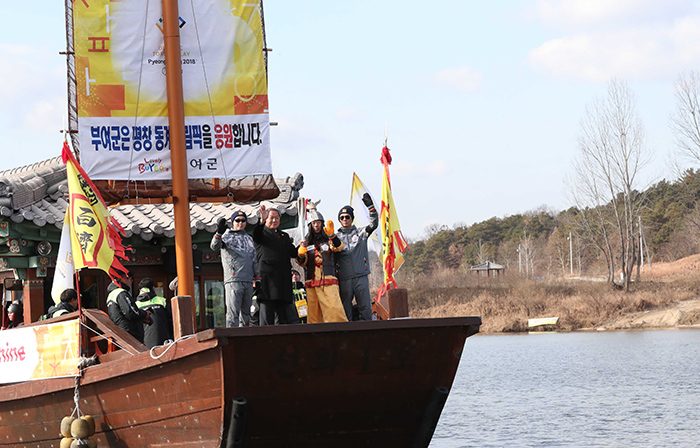 Dressed as a Baekje warrior, a torch bearer waves to the crowd after boarding a traditional yellow sailboat, in Buyeo, Chungcheongnam-do Province, on Dec. 5.