Sangsang-gil, or "Imaginary Road," was popular even before its official opening due to its international campaign with the slogan "Engrave your name in Korea," which gathered a total of 301,396 participants from 206 countries. Of the total participants, 23,000 lucky winners were selected to have their names engraved onto the road blocks of Sangsang-gil in Masanhappo-gu, Changwon, encouraging many international visitors take a journey to Sangsang-gil in search of their names.
Sangsang-gil was created as a part of Changwon's urban revitalization project. Streets and alleys branching out from Sangsang-gil take visitors on a journey filled with stories of people, culture, and art. Take time to explore the streets of Sangsang-gil and discover hidden stories of the past within.
Sangsang-gil, the center of cultural art
Sangsang-gil as a canvas

Streets of Changdong Art Village

The walls of Changdong Art Village and Burim Creative Art Village serve as canvases to artists of Masan. Colorful and creative artworks decorate even the narrowest alleyways, guiding visitors to every corner of the neighborhood. A total of 315 flower pots donated by local residents are also displayed throughout Sangsang-gil in honor of the 3.15 Movement which took place in Masan and resulted in the April 19 Revolution against the government's dictatorship in 1960.
Alleys flowering with art

Inside the workshops of Changdong Art Village and Burim Creative Art Village

Workshops line the streets and alleys of Sangsang-gil, each owned by devoted artists and artisans. At the fragrance shop Omshanti, not only are you able to create your own personal perfume from a wide selection of aroma oils to choose from, but you can also make your own scented candles or diffusers. After a pleasant experience with aromas, stop by the nearby music café, Sogul, for a special cup of coffee.
Sarangi Geurin Sesang, Sangsang-gil's landmark café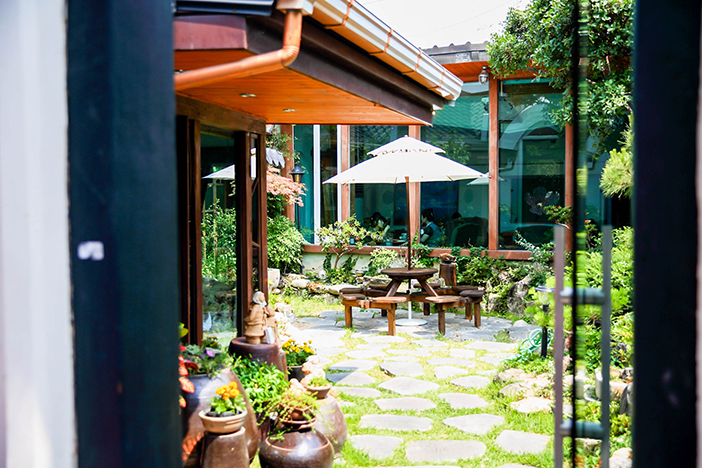 Sarangi Geurin Sesang

Renovated from an old traditional Japanese house, Sarangi Geurin Sesang, which can literally be translated to "World drawn by Love," is a landmark of Sangsang-gil. A sip of coffee while taking in the view of the front yard through the café's window will surely please your palate and eyes. Green tea bingsu (shaved ice) made out of frozen green tea powder is especially a not-to-be-missed summer dessert. Rest your feet and restore your energy at Sarangi Geurin Sesang.
More Info
Changwon Sangsang-gil
☞ Address: 62, Dongseobuk-ro 10-gil, Masanhappo-gu, Changwon-si, Gyeongsangnam-do
☞ Directions: Masan Station → From Dongmasan Hospital Bus Stop, take Bus No. 800 → Get off at Samsung Life Bus Stop → Walk approx. 250 m
Fragrance Shop Omshanti
☞ Address: 6-13, Odongseo 6-gil, Masanhappo-gu, Changwon-si, Gyeongsangnam-do
☞ Operating hours: 11:00-20:00 (Closed Mondays)
☞ Website: www.omshanti.co.kr (Korean only)
Sarangi Geurin Sesang
☞ Address: 16-24, Odongseo 6-gil, Masanhappo-gu, Changwon-si, Gyeongsangnam-do
☞ Operating hours: 10:30-23:00 (Open all year round)
Sansang-gil, connecting the past and the present
Transformation of an old railroad, Imhangseon Greenway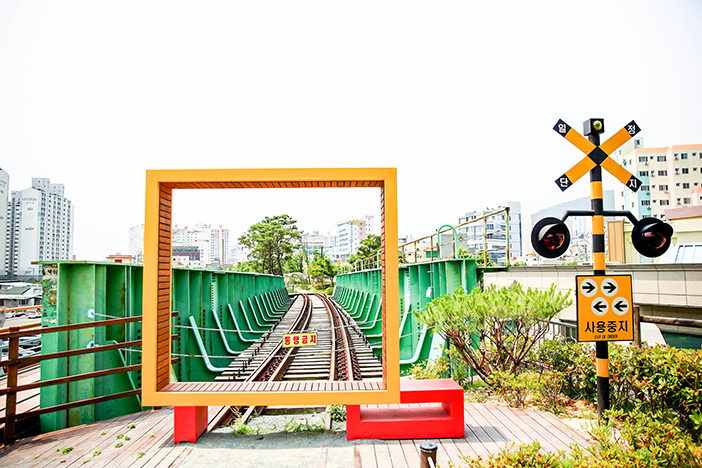 Imhangseon Greenway

An old railroad previously used to carry loads from Masan Port dock until the '80s is now a city park filled with flowers and trees. The closed railroad along with adorable mural paintings and flowerpots serve as a backdrop for outstanding photos. The park also lights up with LED roses at night, offering a fascinating scene. Don't forget to add Imhangseon Greenway to your itinerary when visiting Sangsang-gil!
A peaceful resting spot within the alley, Changdong Tree of Hope

Changdong Tree of Hope Sharing Center
Within the neighborhood streets, an open space called Changdong Tree of Hope is prepared to welcome any passerby. Here you will find murals of trees with wooden blocks carrying messages expressed by 315 residents of Changdong in respect of the 3.15 Movement. Across from the murals is a space prepared that welcomes anyone to freely enter and relax. It's not a café, nor a workshop, but simply a public center filled with entertaining objects, such as books and instruments, along with chairs to sit on. Feel free to play the guitar or the organ prepared inside this unique center, open from 9 a.m. to 10 p.m.
Journey to the past with nostalgic antiques

Gomulchanggo and 6.25 Tteokbokki

Gomulchanggo, which can be translated into Junk Shack, is a café filled with a collection of objects and antiquities used in Korea after the Korean War (1960). Staying loyal to the café's slogan, "We sell memories," the café's wide range of display is enough to resemble a mini museum. Another special stop to make at Sangsang-gil is 6.25 Tteokbokki in Burim Market. 6.25 Tteokbboki has been open for over 40 years, serving tteokbokki just spicy enough to be enjoyed even by those who are not fans of spicy food.
More Info
Imhangseon Greenway
☞ Address: Seoseong-dong, Masanhappo-gu, Changwon-si, Gyeongnam
☞ Directions: Masan Station → From Dongmasan Hospital Bus Stop, take Bus No. 800 → Get off at Masanhappo-gu Office, Medical Clinic (KT & G) Bus Stop → Walk approx. 250 m
Changdong Tree of Hope
☞ Address: 19, Dongseobuk 13-gil, Masanhappo-gu, Changwon, Gyeongsangnam-do
☞ Operating hours: 09:00-22:00 (Open all year round)
Gomulchanggo
☞ Address: 2F, 392, 3.15-daero, Masanhappo-gu, Changwon-si, Gyeongsangnam-do
☞ Operating hours: 18:00-23:00 (Closed weekends)